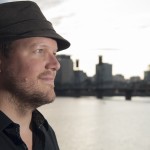 I recently made friends via Twitter with musician Eric John Kaiser, a native Parisian who now lives in Portland, Oregon. Like many who make a living full time from music, Eric is a busy person, juggling several different sources of income, as you will read below. 
Eric has managed to successfully carve out a niche for himself in the Portland musical ecosystem playing "French music" several days a week. I thought it would be helpful for other musicians to read some of the smart and practical things he does to find, classify and promote his local and regional gigs. I also feel it is worth highlighting how Eric does business as a musician: he treats bookers and the other musicians he works with respectfully, fairly and professionally.
Question 1: Tell our readers a little about yourself: your music, where you are from, and how you ended up in Portland.
EJK: I'm a professional singer-songwriter originally from Paris, France, now based in Portland, Oregon, USA. After doing over 350 gigs in France and several records, in the summer of 2006, I followed a girl from Portland whom I met in Paris. Now I tour mainly on the West Coast, Idaho and Montana, in Louisiana and in Quebec and some parts of Canada. I also go back to France to tour once a year. I have released, at this point, three full length albums and three EPs. It's been a great musical adventure so far.
Over time, I've learned that I needed to be flexible and be able to play solo gigs, as a duo with my accordion player or play with my full band.