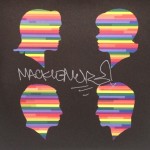 I first wrote about them in October 2012 on this blog, but the world now knows that a combination of strong, socially conscious messaging, a well-defined visual persona, an electrifying live show, and great music characterize the hip-hop duo Macklemore and Ryan Lewis. Amplified by impeccable marketing execution and excellent timing, they have become the poster child group for DIY indie artists around the world and put Seattle back on the map of music industry innovation.
Zach Quillen (@wexington), who began managing Macklemore and Ryan Lewis full time in 2012, was interviewed this past Saturday live and in person by Larry Mizell Jr. (@lar206), DJ from KEXP Seattle. This happened at Seattle's EMP Museum at the Pacific Northwest Chapter of The Academy's Songwriter's Summit 2014. I was fortunate enough to be in the audience.
As both a marketer and an indie musician, I was fascinated to finally hear Quillen talk in person about the details of marketing The Heist. I've been waiting to meet Quillen for almost two years, and I wanted to hear straight from the source what his biggest challenges and most difficult decisions have been. I was not disappointed.
There Has Always Been A Plan
My key takeaway? There is a plan. There has always been a plan. It's a plan you can trace back to the early 2000s, but the additon of Quillen brought music industry marketing expertise, experience and connections to the mix. The seemingly meteoric success of The Heist has been planned by Ben Haggerty, Ryan Lewis and Zach Quillen for years. Marketing for The Heist has been strategically thought out, considered, discussed, rehashed and then tactics executed boldly – with adaptations made on the fly as opportunities arose.