Archive for the 'Social Media' Category
posted by Solveig Whittle on Marketing, Social Media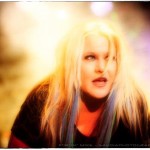 A few weeks ago I attended an inspiring CD release party for the Aury Moore Band's new CD, Here I Am. The AMB is a female-fronted indie Seattle rock band whose latest CD was produced by Stevie (full disclosure). I've been fortunate to be a part of Aury's inner circle, and even to feed her a few music marketing tips. She's an experienced and accomplished musician and marketer herself, and I wanted to share the story of this 12-song CD.
This article is the first of a two-part series. In the first post, I describe how Aury used Kickstarter to successfully raise over $20,000 to record, promote and pre-sell her CD. In Part II, I outline how Aury followed up with a highly successful CD release party and what might lie in store as she continutes the process of marketing her newest release.
The promotion of this CD began even before it was produced. A well-executed CD release, launch and promotion process is ideally 12-14 months, and a crowd funding campaign with Kickstarter (or via another crowd funding platofrm such as PledgeMusic, IndieGoGo or RocketHub) is an important and powerful marketing and pre-sales technique.
The Timeline
Spring 2012: Aury and her band came to Stevie, wanting to record a new CD. Aury had recorded in the past, and had actually begun the process with another producer, but he was tragically killed. She didn't have funds to continue making the CD at the time, and was talking to a few individual fans about the possiblity of them funding it. Aury and I talked about the idea of doing a Kickstarter campaign to raise money instead of relying on one or two individuals. I invited Seattle singer-songwriter Jean Mann over to my house to participate in a group discussion on music marketing for several of Stevie's clients. Jean graciously detailed to the group how she had used Kickstarter to raise money for her CD. It was something Aury and her band had never done before, but Aury recognized the potential right away and started planning.
Summer 2012: Aury researched Kickstarter, and then began work on the video and premiums for her campaign.
August – October 2012: The AMB Kickstarter campaign ran for 60 days, ultimately raising $2000 above the original goal.
October 2012 – May 2013: Stevie, Aury and the band recorded and mixed the CD.
June 2013: Aury Moore Band CD release party happens with over 400 people attending.
July 2013: As of this writing, the new CD is available on CD Baby, iTunes, Amazon, etc. and they have sold about 600 physical CDs.