Archive for the 'Social Media' Category
posted by Solveig on Interviews, Marketing, Music, News, Social Media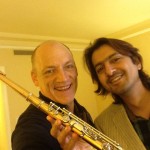 I interviewed New Age artists Ricky Kej and Wouter Kellerman recently about how they marketed their newest collaboration, Winds of Samsara. The album debuted in July at No. 1 on the Billboard New Age Chart, and then spent the following 12 weeks in the Top 10.
*** UPDATE December 5, 2014 – Kellerman and Kej's album has been nominated for a Grammy! It just goes to show what can be accomplished with great music and hard work!
Ricky, Wouter and their team are a hybrid indie artist marketing model: neither the artist nor the label does 100% of the marketing. Most of the marketing strategy, however, is planned and driven by the artists and their managers, with similarities to how Macklemore (Ben Haggerty), Ryan Lewis and Zach Quillen drove the charting success of Heist in 2013.
While Ricky and Wouter are not technically 100% DIY indie artists (they signed this project with a label), they recognized from the start that the label wasn't going to do everything needed to promote the album. The artists themselves needed to pitch in, especially with social media promotion.
I've seen first hand on social media how Ricky, his wife Varsha Kej, Wouter, and Wouter's manager, Tholsi Pillay, persistently promote Winds of Samsara. All four fluidly mix the creative with business. In addition to being Wouter's manager, Tholsi played keyboards and synth on the album, and Varsha is Ricky's manager as well as a sitar player. 
I wanted to hear more about how this marketing dynamo planned and executed their marketing, and what has gone into debuting and maintaining Winds of Samsara's Billboard chart status over the past weeks and months. I also wanted to know what kind of promotional team they have behind them (distributor, PR, etc.)