Archive for the 'Live' Category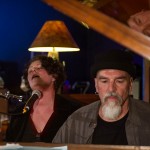 I did something important this weekend. It was important because I'm dying. Not anytime  soon, mind you, but someday I won't be here. So, because I could - because it mattered to me - this weekend I did a few things I enjoyed doing a lot. Things on my bucket list. These were all things I've never done before, and I did them with people I love and respect. I
entertained 50 people (pictures here),
performed original music I had created with my life partner, Stevie,
opened for Amanda Palmer (@amandapalmer, yes that Amanda Palmer), and
kicked off the launch of the first ever Solveig & Stevie CD, Superwoman (available soon via iTune and all your favorite channels and services).
Oh, and I moved people. That is really the most important part of what I did this weekend. I made something beautiful and magical for people I love and for complete strangers alike. How do I know this? Because people haven't stopped telling me since last Saturday. That is why I make music: to move people. I don't need to be a star. I don't need to be famous. I'm old (relatively), and I have three kids.  I think regularly about how best to live the rest of my life, and what kind of meaningful memories I want to leave behind when I am gone. I've done my time in corporate meeting rooms. I want to make people feel. I want to touch people and make them think about their own creativity. If I did that for even a few people last weekend, that makes me happy.
Yes indeed. What a night! Could the long term good vibes of the church be blessing our communion ! I'm not the least bit religious but last night was the best feeling I've had in a group of strangers since the sixties. – Tim Rounds