Archive for the 'Conferences' Category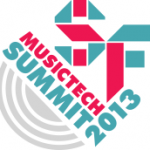 I had a very full day at my first SF Music Tech. I was impressed with the level of serious dialog, with the fact that women were much better represented here than at many of the tech conferences I've been to (35 – 40%), and, perhaps most importantly, with the mix of technology, business, and artist/creative-types represented. Many music conferences attract one type of attendee or another, but this one seems to do a really fine job of bringing them all together under one roof.
Here are my other impressions (taking into account that there was no way I could humanly attend all of the 33 sessions):
Daisy and YouTube: Important But Unrepresented
It was interesting that panel after panel talked throughout the day about YouTube as the most important platform for music discovery, especially among young people. Zoe Keating said she gets more money monthly from YouTube than Spotify. Yet many other music tech platforms are not seamlessly integrated with YouTube, and licensing is a nightmare for smaller musicians. Google was completely unrepresented at SF Music Tech as far as I could see – neither as panelists nor attendees.
Another elephant in the room was Daisy: apparently things got heated at the "How We Will Experience Music in the Future" panel, although I wasn't there to hear it myself. Daisy went completely unmentioned in the "Music Discovery" panel (with panelists from Echo Nest, Rhapsody and Pandora). I did see two Daisy/MOG/Beats (that was what their badges said) attendees, but no official panel representation. I would think with all the press Jimmy Iovine's been courting around Daisy and serving data to artists, they would have had someone here to talk to the tech community about this feature. Maybe I'm naïve.