I "met" Denver, CO singer and actress Su Charles (AKA SuCh) on one of the Grammy® Facebook pages, where she has been active posting and conversing with other musicians and sharing her music during this fall's Grammy voting season. I was impressed with her single, "Sugar Maple", from her 2014 album, Trial and Error, and the many YouTube views of her video (you can watch and listen to Sugar Maple on YouTube at the bottom of this post, where you can also find a link to SuCh's music website and iTunes page. I also linked below to a lovely bio piece the Denver Post did for more background info).
What impressed me most about SuCh, in addition to her great voice and music, and the incredible diversity of her talents (she's also an actress), is the positivity and sweet sexiness of her music.
I love that I can enjoy SuCh's genuine smile, watch her playfully sexy imagery and production – and listen to her music – without her music video being NSFW.
As a woman in music (and an old-school feminist), I applaud any woman who can walk that line and be as successful at promoting their music as SuCh has been. Most of us women in music want visibility for ourselves in the industry. We certainly want people to discover our music. Sometimes it feels, though, like the only path to "visibility" is to show a lot of skin in your music marketing images.
Don't get me wrong, I love skin. It feels like mainstream pop music videos have merged with the soft porn industry, however. Not so for SuCh's music videos. There's skin, but it doesn't distract us from her music. (Maybe it's the minister's daughter thing). OK, I will step down from my post-feminist soapbox now.
Here's my interview with SuCh, a positive and sexy young woman (and a mother, daughter and wife) who is successfully promoting her music first:
 Q1: SuCh, your most recent single, Sugar Maple, peaked at #1 on the UK Soul Charts, the UK Amazon Soul/R&B MP3 Charts, and the Independent UK Soul Charts. There are many American artists who have first broken through in the European music scene. The UK music audience perhaps seems a bit more sophisticated and open to indie artists in some genres like soul, blues and jazz. What are your thoughts on why your music seems to especially appeal to the UK listener? Have you toured in the UK? What marketing efforts have you focused on the UK?
A1: I did tour the U.K. this past summer and LOVED it!  From my experience, I feel like the U.K. listener / concertgoer is more accepting of creative freedom from the artist.  And the Brits have an out-of-this-WORLD love for Soul music.  I loved how every audience I performed for was so engaged and eager to listen to my originals.  As far as marketing goes, I wanted to get my music into as many radio dj's hands as possible.  I hoped they would like it and I am thankful they do.
Q2: In the US, Sugar Maple is in rotation on several radio stations, including iHeart Radio, WYBC, Music Choice, and Sirius XM's Heart & Soul. Your newest album, Trial and Error, peaked at #46 on the iTunes R&B charts and #2 on the Amazon R&B charts in the first week of its release. What role do you feel US radio plays today in helping an artist break through in the American music market? What do you feel is most effective to gain new fans, internet radio, radio, or satellite radio?
A2: Radio is one of the fastest ways to gain fans and break into a market.  It introduces an artist into a person's most intimate space: a car, the home, etc. It increases visibility. Terrestrial may have the largest reach, but satellite and Internet radio reach a niche underground fan-dom which could be essential in the breaking of an artist. I don't think radio is everything however, just a piece in a puzzle that has to fit the rest of a strategy. I know bands/artists who haven't gotten a second of air time who are selling out live shows and doing super well.
[Tweet "Radio is one of the fastest ways to gain fans and break into a market. "]
Q3: I'm sure there is a lot of hard work represented in those radio play results. Can you share how you did it?
A3: LOL, yes there is a lot of hard work.  At the time Sugar Maple was released, I was tired of waiting around for "someone" to make something happen for me. So, I researched (Mediabase and Google are great resources), found out who Soul music dj's were and sent them the song – I wanted as much exposure as possible abroad and here in the States. I did something similar with "Trial and Error". I created a special edition of the album and sent it to tastemakers, radio dj's, talent buyers, promoters, etc.  I had hoped for there to be a decent reception, but the results were better than what I'd hoped – my albums are actually being sold not only in independent stores in the U.K. but also in HMV and Tower record stores in Japan also, which is huge.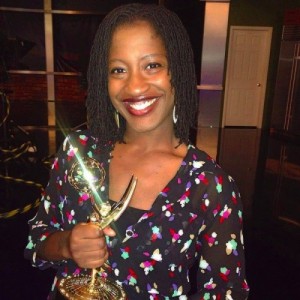 Q4: You've competed on American Idol in the 2012 season. You are
also an award-winning Broadway actress. Tell me more about how your stage and television acting talents and career complement your music career. Which came first, the music or acting? Do you think it's a requirement for performing musicians to be proficient at acting? Do you think your acting training and talents have been helpful in making music videos that clearly have a broad appeal?
A4: Singing came first.  My father is a minister and I grew up singing in the church choirs.  I happened upon acting by chance.  Donnie Betts (director) came to one of my shows and asked me afterwards if I had ever acted (I hadn't and the thought never crossed my mind). I looked at him like he was crazy, lol.  He was directing the regional premiere of "The Color Purple" told I should come audition.  I had no intention of doing so.  But a week or so later, I decided to watch the movie just to see if I could even connect to any of the characters.  And the weirdest thing happened – as I watching, I felt like I could be Celie. So to make a long story short, I auditioned (with the help of my good friend/actor and fellow American Idol Alum, Mathenee Treco) and got the role of Celie! I was terrified because I had NO idea what I was doing.  But it turned out to be one of the most amazing experiences of my life.  I discovered the magic in connecting to a song as a character versus just as SuCh.  I also unearthed another side of my artistry which added fuel to my music – active makes me a better storyteller in my songs and on stage. It's helped me but it's not a requirement for a musician to be an actor/actress.  There are a ton of incredibly gifted musicians who don't act and that hasn't diminished their art in any way.  I did get more comfortable in front of a camera which has helped me enjoy making music videos even more.
[Tweet "I discovered the magic in connecting to a song as a character "]
Q5: You have two commercials featured on your website, both local Denver- area, for McDonald's and Honda. I love the McDonald's ad in particular, because it's really not a commercial for McDonald's, it's part of a local campaign called "Celebrating Soul Music in Colorado." This is such great co-branding and messaging for any indie artist. How did you get those opportunities and how do you think they have contributed to your music career?
A5: A lot of doors opened after "The Color Purple." One of the owners of an acting agency had come to see the show and asked me to come in to see if my stage work translated to the camera. It did and I've been doing TV work with them ever since 🙂 Every opportunity contributes to my music and my development.  I write from life, so everything that I experience is another page in my journal which is fertile ground for my songs.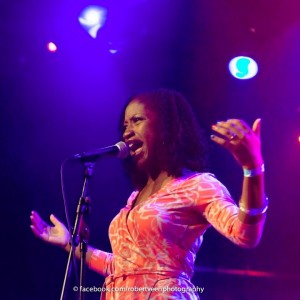 Q6: Tell me about your music marketing and business team. Who are your key team players (musical collaborators, music videographers, producers, lawyers, managers, business mentors, PR, distribution, label, social media support, etc.)? Do you have super fans or influencers on social media who have played a big role in helping you?
A6: I LOVE my team 🙂 We are few but mighty! I have an incredible band, the same for the past 3 and a half years (keys-JC, drums-Jasson Martin, bass-Keith Askins, guitar-Jordan Linit, alto-Colleen Christmas-Garner, Soprano-Francine Scarborough).  I try songs out live with them long before I hit the recording studio.  My videographer is Damon Jamal out of L.A. –  He is awesome sauce! Producers include my MD/keyboard player JC and Josh Fairman of Analog Son.  My manager is the man, Kevin Harewood.  Incredible person with a sharp mind, I am blessed to have him help me steer the boat. I've used the same makeup artist, Kalani Clinkscale of Changing Faces and Penny has been my photographer since day one. I do my own social media 🙂 And yes, I have some incredible super fans, like Ouida and Rhoda, whom I named "#teamsuch" co-captains in Los Angeles – always up to date and spreading the word. I am so grateful to them, to everyone who support my music, and to my team, because I surely can't do it by myself!
[Tweet "I have some incredible super fans, like Ouida and Rhoda"]
Q7: Facebook, YouTube, Twitter, iTunes and Bandcamp are the featured links across the top of your home page. Which platform do you feel has been most successful in promoting your music and why?
A7: Facebook and Twitter have been the most successful for me so far.  Each platform has its lingo, there are strengths and weaknesses native to each, and as artists it is our job to figure them out and strike the right balance and tone.  They're always evolving (native Facebook videos get three times more priority in news feeds, and Twitter no longer shows Instagram previews for instance) but are great mediums, and independent artists' best friend for spreading the message in our music.
Q8: SuCh, you have such a great presence on YouTube for an indie musician –  over two thousand people have subscribed to your channel. One of your videos, Mesmerized, has over 165K views, and Sugar Maple, your recent single has over 46K views. How do you do it?
A8: The views with those two music videos came from spreading the word, nonstop. I held sharing contests and created viewing/watch parties on Facebook, Twitter, Instagram, etc,  Also, I was blessed to have had several large blogs with huge followings, endorse them, which brought a lot of traffic to YouTube.  With Sugar Maple, satellite and terrestrial radio play was key.  People would hear the song and YouTube it.
[Tweet "I held sharing contests and created viewing/watch parties on Facebook"]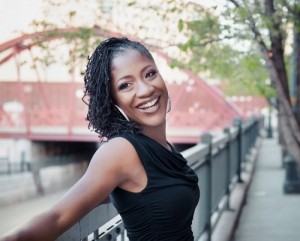 Q9: I notice on your YouTube channel that you have included smarturl links to purchase your music. That's great! Tell me about your digital marketing strategy: what do you think are the most important and successful things you have done to market and sell your music digitally?
A9: I can sum up my digital marketing strategy in three words: accessible (I talk to my fans allll the time, because without them, their love and support, I'm nothing), efficient (I don't want people to have to click three million times to get to my music, the fewer clicks the faster they become engaged) and visual (a picture is worth a thousand words).
Q10: What are your thoughts on streaming music vs. downloads and CD sales? Where do you see most of your revenue coming from as an artist (performance, licensing, downloads, merchandise/CD sales at shows, private performances, television, etc.) and do you see that staying the same or changing in the next few months to years?
A10: The music industry is changing daily, and as musicians we have to adapt and advocate to make the best of it in ways that will benefit us and our fans, both. Ultimately I want my music to get into be heard by as as possible so that when I perform in an area near you, you'll come see me.  Live performances are where I can really connect with my fans and they can connect with me not just as a musician but as a person.  If streaming makes the job of getting someone to my show easier (Songkick integration, for example), then YAYYY! The bulk of my music sales and downloads happens after someone sees me live, anyway.  Live shows are the largest source of income for musicians, especially indies, and I don't see that changing anytime soon.
[Tweet "Live shows are the largest source of income for musicians"]
Q11: I watched your video of the National Anthem performance. Wow! That's so impressive. You have an amazing range and great style. That is a really hard song to sing, as any of us vocalists know all too well!. I watched Cheryl Crow do a terrible job of it recently on the Democratic Debates, and I really felt for her. As a vocalist, I would love to know how you prepared for your performance. Do you have any secrets to share with our readers who might be contemplating performing it?
A11: Thank you so much! I don't get wrapped up in my head when I perform the National Anthem.  My prep work for that song entails me grounding myself and remembering that it is such an honor and privilege to sing that song.  And to remember that it's not about me.
Q12: A lot has been made this year about the challenges of being a woman in the music business. For someone who has been working in the industry for a while, you still seem so positive, energetic and upbeat. To what do you attribute such a great attitude, and how do you stay focused and moving forward  with your musical goals on a daily basis?
A12: I am so thrilled that I have a 4 year old son.  He totally keeps me grounded and is a daily reminder that everything is okay.  No matter what musical disappointments may arise, I know that I've got life, health, and strength and that is priceless.  Saël just knows me as Mommy…and that's what matters 🙂 I also set time aside for relaxing, reading, and writing, spending times with friends (I have a book club), I do yoga, Pilates, body combat, and take hip hop dance classes, etc. I try to not sweat the small stuff and I hope and dream BIG – Cause without these two, life is not worth living.
Thank you again, SuCh, for your time, and it's a pleasure to listen to your music and watch your videos.
Connect with Su Charles via her website or social media at: