What factors cause a band with regional popularity to suddenly break onto the national scene?
Night Riots is a California-based rock band that has gotten a lot of buzz recently, and this article is all about how and why from a marketing perspective.
Disclaimer: I don't have any personal or professional connection to Night Riots; I'm just interested in profiling them as a marketing case study in indie music success.
I'm a member of a public Facebook Group called The Music Biz Weekly Music Marketing Mind that currently has over 1250 members. If you're a musician or otherwise in the music business, I can recommend this group as a great place to share and get ideas about music marketing.
A few weeks ago, one of our Facebook group's members, Diane Phillips, posed a question to the group about Night Riots. This stimulated some lively commentary from myself and others, because goodness know that we Music Musketeers, er, Marketeers, er… Marketers cannot refrain from giving our opinions when asked (and even sometimes even when not asked). I say that with great humility and affection.
I thought it would be useful to summarize what I learned from my research and other peoples' comments about Night Riots' recent success. Perhaps you will see elements of yourself, if you are a musician, or your clients, if you are a music marketing consultant, and find something that you can run with to further your own success.
Diane's original Facebook post was: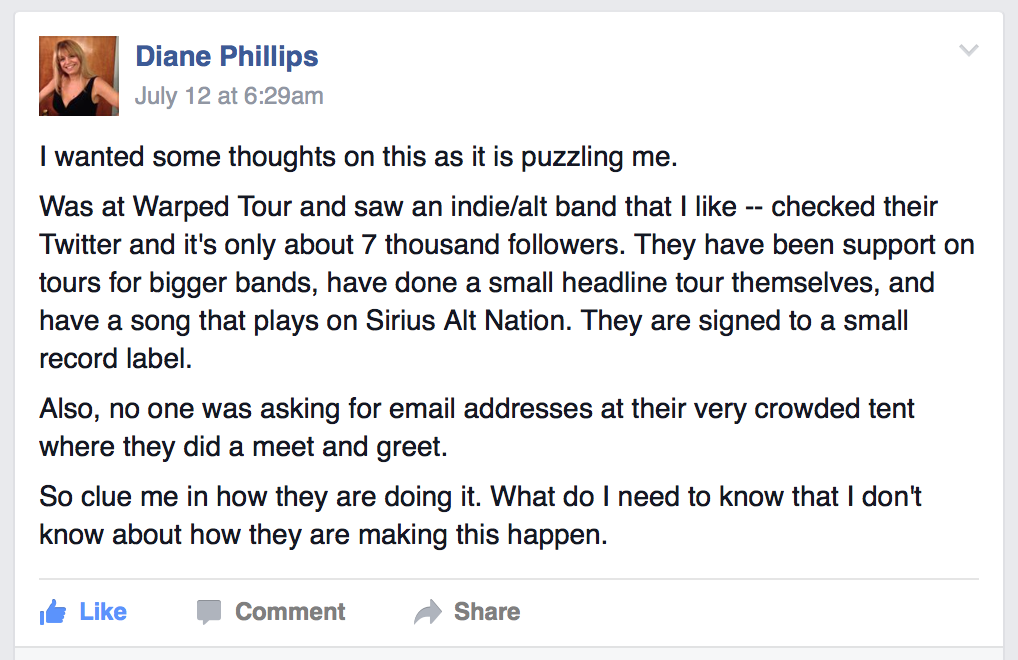 You can find a link to it here if you want to read the whole discussion on Facebook.
Night Riots' Measures of Success
With a little digging, I found some key indicators of Night Riots' recent success:
Billboard Charts: The most recent Night Riots EP, Howl, debuted at #17 on Billboard's Heatseekers chart. The lead single, Contagious, reached #1 on Sirus XM Alt Nation Alt 18 Countdown of several weeks, and broke into the Top 50 at Alt Radio (from the Night Riots website).
YouTube: Their most popular video so far (over 550K views on YouTube), is called Contagious (published October 24, 2015). So, OK, not amazingly viral (like, in the millions), but still very very respectable. It's possible there were some serious marketing dollars put behind this video in the last six months to increase the views. Night Riots also have a number of fan-posted live performance videos as well as numerous interviews posted on YouTube.
Other Social Media: Night Riots may only have about 7K Twitter followers, but they have over 30K Likes on their Facebook fan page and over 9K followers on Instagram. The band is active regularly on all three channels, although not as devoted and prolific on social media as some musicians like Taylor Swift or Amanda Palmer. They have over 900 photos on Instagram, where they hosted a "Night Riots Official Photo Challenge" this past spring.
Recognition and Buzz: According to MTV Artists, "Night Riots (Formerly PK)… have opened for such bands as Angels and Airwaves, The Script, Twin Atlantic and even Aerosmith. They were chosen as one of MTV Buzzworthy's most underrated acts of 2012. They were also chosen by Rolling Stone magazine as one of America's Top Unsigned bands." Just last month (July 2015), they did an exclusive preview on MTV of a new music video for the song, Oh My Heart. They were also mentioned in an August 2015 news story on Fox LA on Kevin Lyman, the Warped Tour founder, as one of three bands likely to "be a household name this time next year." 
National Touring: The band has an extensive touring history. Most recently, they've been on a national tour since March of this year with the Mowglis. They performed two nights at SXSW just prior to that. The band just completed the Vans Warped Tour 2015 this past Wednesday, August 5. They are performing tonight at a venerable local Seattle area rock venue, the White River Amphitheater, which has a capacity of 20,000. Not bad.
Crowd Funding: In the summer of 2013, the band raised almost $12K (of an $8K original goal) on IndieGoGo.
Website and Merchandise: A few weeks ago when I clicked on the Store button on the Night Riots website, it showed that all their merchandise was sold out. Now the link simply goes to the main Merchline website. Hmmm. Maybe that needs to be fixed? But sold out merchandise is certainly a good sign.
6 Breakout Success Factors
So how did this band manage to be so successful without focusing that hard on the two holy grails of indie music marketing, the email list and social media? They have no visible push to collect email addresses, and their high Facebook numbers seem more an indicator  of their success than a reason for it. What marketing factors then explain this band's breakout onto the national scene this summer, besides their music and their photogenics, which obviously are high enough production to meet the bar?
Could it be that more traditional music marketing techniques were in play here?

While it might seem sudden, Night Riot's breakout didn't didn't happen overnight, and our group concluded that it isn't really that big a mystery. There is no smoking gun, no single influencer, no silver bullet here. Just hard work and traditional fan-building.
In a nutshell, Night Riots spent years honing their live show and building their fan base, and then they capitalized on it with professional help over the past 12 to 24 months, which gained them national PR buzz and their own headline tour.
That said, there are six  factors I distilled from my research and the comments of my colleagues based the strengths and marketing tactics of this band in particular:
Longevity and Multiple Releases: The band has been building a fan base in California for roughly ten years. Three of the band members began playing together in high school. The lead singer is now in his late 20s, and they have at least four albums under their belt, both under the original band name (PK), and as Night Riots. [The band name was "changed for legal reasons beyond our control."]
Local College and High School Circuit: The band focused on playing regional California high schools and colleges during the week in their early days, when the band was called PK. (Red Bull USA interview, 2012, "PK Is Not A Folky, Wimpy Indie Band")
Live Performance and Extensive Touring: Several of the press pieces about the band emphasize their high energy live performance, and Diane attested to that from watching them live at Warped. They give a good show, and have great audience participation and interaction, which you can see from their Warped Tour Webcast videos. They have performed a lot live in recent years, in particular going national this year, although their current posted tour schedule ends September 12, 2015.
Label: The band is currently signed with Sumerian Records, a smaller, but well-known and respected label with experience and connections. As W. Tyler Allen said, "Sumerian Records is a very well connected and well funded indie label. They've been around for almost a decade or so. They're also distributed by the majors — WMG. The label was likely a major factor here, too."'
PR: Whether via the label or management or the band themselves, they have generated a lot of great press. They have done many interviews, have a great live show, and seem very comfortable in front of the camera. They likely have some good professional help in the PR department.
Passion and Drive: You can read from their Red Bull interview that Night Riots are serious about their music careers, and have consistently put passion and effort into it. From the Red Bull interview,
Hawley [the lead singer] can't remember their first band name, but he can remember one of their first gigs. 'It was at a bowling alley,' he recalls. 'And I jumped off an amp, hit my head on the roof and knocked myself out….We all briefly went different ways after high school — a few of us went to college,' he continues. 'I studied in Italy for a year, but I decided I didn't want to live a normal life. I wanted to be a rock star.'
Doesn't that just say it all?
[For more information on how to break into the college and high school circuits, see this Music Biz Academy post called "The Truth About NACA, Gigging On the College Circuit" and this Music Biz Weekly pod and video cast Episode 199 by W. Tyler Allen and Michael Brandvold.]
Much as we often focus on the overwhelming odds stacked against those of us who choose a career in music, there are success stories like Night Riots that show how hard work, talent, and a good marketing and PR team can pay off.
I hope you have gotten something from this case study that you can take away and apply to your own music career. As with everything, not all these success factors may apply to your situation, but I hope you will leave your comments and additional tips below. And of course, if you know more about Night Riots, I'd love to hear your perspective on the band's success.