In fall of 2014, I interviewed New Age artists Ricky Kej and Wouter Kellerman about how they marketed their newest collaboration, Winds of Samsara. The album debuted in July at No. 1 on the Billboard New Age Chart, and then spent the following 12 weeks in the Top 10.
****** UPDATE!! February 8, 2015 – Kellerman and Kej WON a Grammy for Best New Age Album at the 57th Grammys. Congratulations! It couldn't have gone to two nicer musicians and a harder working team. ******
Ricky, Wouter and their team are a hybrid indie artist marketing model: neither the artist nor the label does 100% of the marketing. Most of the marketing strategy, however, is planned and driven by the artists and their managers, with similarities to how Macklemore (Ben Haggerty), Ryan Lewis and Zach Quillen drove the charting success of The Heist in 2013.
Ricky and Wouter signed this project with a label, but they recognized from the start that their label wasn't going to do everything needed to promote the album. The artists themselves needed to pitch in, especially with social media promotion. That is the powerful story here – all the incredible networking and promotion this team did for the album, in addition to using key industry resources at their label to help strategically promote the album in distribution and on the radio.
I've seen first hand on social media how Ricky, his wife Varsha Kej, Wouter, and Wouter's manager, Tholsi Pillay, persistently promote Winds of Samsara. All four fluidly mix the creative with business. In addition to being Wouter's manager, Tholsi played keyboards and synth on the album, and Varsha is Ricky's manager as well as a sitar player. 
I wanted to hear more about how this marketing dynamo planned and executed their marketing, and what has gone into debuting and maintaining Winds of Samsara's Billboard chart status over the past weeks and months. I also wanted to know what kind of promotional team they have behind them (distributor, PR, etc.)
What's also important to note is that the team is global. Ricky and Varsha live and work in India, and Wouter and Tholsi are based in South Africa. The album was primarily recorded in India at Ricky's studio in Bangalore, but a long list of other musicians also contributed tracks from around the world (including Seattle). Wouter and Tholsi were on the road pretty much non-stop this fall promoting the album in Europe, Australia and the US.
This is a 21st Century music project from top to bottom: international, collaborative, genre-expanding, social-media-supported, team-focused, flexible, and hard working.
Q1: Can you tell us a little about how Wouter and Ricky met and what inspired you to work together on this new collaborative album, Winds of Samsara?
W: Ricky and I met on Grammy365 – the Grammy community [member's website]. Ricky heard some of my flute playing and sent me a track that needed some flute on it. The track was incredibly beautiful and I was super impressed, so I tried my best to add something very special. Ricky liked my input, and that set the stage for the collaborations to follow.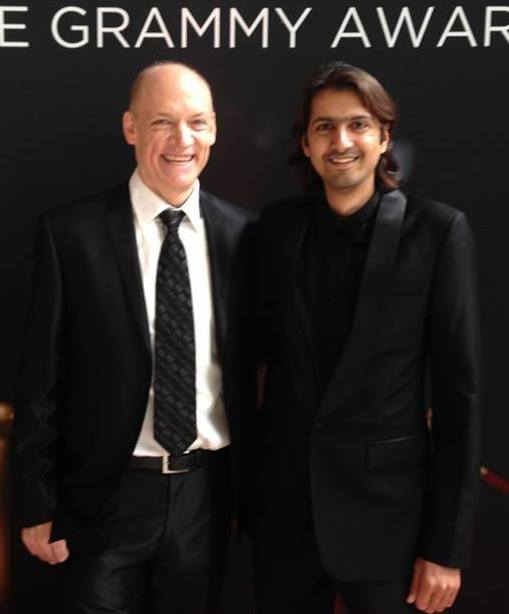 R: I had also heard a lot about Wouter from Indian musician friends of mine who had traveled to South Africa. I had already watched YouTube videos of his and had met Tholsi (who is also managing Wouter) in Los Angeles during a music conference.
Q2: Both of you are award-winning musicians in your own right with lengthy credits and decades releasing your own very successful albums and licensing your music globally. Ricky, you have a long history creating music for TV and film in India. Wouter has had success in his own country of origin, South Africa, and beyond as a recording and performing musician. It seems your collaboration on this album, however,  has built on your individual careers and created something even bigger and more successful, bringing you new visibility and fans in the US and on the large global stage. Can you comment on why that may be?
W: I think this is a case where the combination is more than the sum of it's parts – combining in both the creative and promotional aspects has really helped the project.
[Tweet "This is a case where the combination is more than the sum of it's parts"]
R: True.. as Wouter said. Also, both of us have completely different approaches to making music, and post producing music. I come from a film scoring and composition background, Wouter comes from a performance background, so this made for a very unique combination.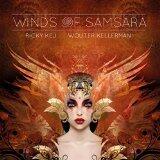 Q3: Wouter and Ricky, you are the two main musicians on the album and both also both produced it yourselves, correct? I'd also love to hear about Tholsi's role – clearly she plays a strong behind-the-scenes role in management and marketing. You seem to work well as a team. Can you talk about your various roles a little? 
W: Yes, Ricky and I produced the record together, also both played on the album. The three of us have been getting working together on the admin and marketing – there's just way too much for one person to handle!
R: Along with being a creative musician [herself], Tholsi plays a very strong role in the marketing and admin side of things. She is a very friendly person, and never forgets people. So sometimes when we hit a road block, she pulls out a contact of hers she met many years back, and things start moving!
Q4: I am very impressed with the debut of your album in the #1 position on the Billboard New Age album charts the end of July, very shortly after release – and its continued success on the charts. Can you explain what goes into being ranked at #1 on the Billboard charts? What metrics are used to determine your ranking?
W: The New Age billboard charts are determined solely by sales figures [as recorded by Nielsen Soundscan, physical sales and digital downloads]. The key for us was to promote very heavily during the pre-order period so that we could have a strong start.
R: We did everything the traditional way: promotions on Amazon, iTunes, alternate distribution centers, sending out email blasts, spreading word through social media, etc. All of this helped contribute to a strong debut at No. 1. We were hoping the quality of the album would sustain it further – and we spent 12 weeks in the top 10. Wouter also performed at Carnegie Hall and at the Grammy Museum in LA. This helped us maintain our chart position.
Q5: Was your original primary goal to chart the album, or to generate sales, or to get bookings  – or was charting  just something that happened  as a result of your promotional efforts?
W: We had all those goals, but had to specifically focus on sales to get results – previous experience has showed that if you don't, the sales just don't happen…
[Tweet "We had to specifically focus on sales to get results"]
R: True, a lot of our focus was on sales and radio play. The charting actually came as a delightful surprise to us. It was a dream come true.
Q6: What are your thoughts on being signed to a label these days?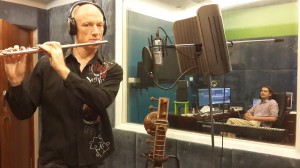 W: We actually did sign this project with a label – Listen2 Entertainment. I think it's good to sign to a label if you can find one that will work enthusiastically to help promote. Even with a label, you have to spend a lot of time promoting as well – it's just a lot of work that needs to get done! [Winds of Samsara is distributed by Listen 2 Africa, a global company founded by GRAMMY®-winning producer and recording industry veteran Dave Love. Artists such as Ladysmith Black Mambazo, Miriam Makeba, Oliver Mtukudzi, Hugh Masekela are also represented by Listen 2.]
[Tweet "No one believes in our music more than ourselves"]
R: True, signing up with a label does not mean the artist does not need to promote. A label is great for the admin side of things, and ensuring things go through a proper channel. As musicians, no one believes in our music more than ourselves, so it is up to us to promote our work.
Q7: I'm sure a lot went into planning for the release of this album. When did you first begin planning and when did you actually begin promoting it (before or after release, etc.)?
W: We had to do the planning of the promotion the previous year already to make sure the album was ready in time. We started promoting months before the release.
R: True, as Wouter said, we had started planning almost a year before the release. The mistake that both of us have always made is to start thinking about promotion after the album is complete. It's great to make a wonderful album, but if no one listens to it – and it does not reach out- then I do not see any point in creating.
[Tweet "The mistake that we have always made is to start thinking about promotion after the album is complete"]
Q7: Tell us about the timing for the release and why your chose July.
W: Christmas season starts early and is too competitive, so we wanted to  have enough time to promote and sell before the season.
R: Exactly, we did not want to get into the holiday season clutter.
[Tweet "we did not want to get into the holiday season clutter"]
Q8: Can you outline the basic components of your promotion program (eg. social media, advertising, radio, etc.) and explain why you chose those components? Also, can you specify which components of your marketing you have decided to "hire out" and which to do yourselves?
W: We focused heavily on social media, which we did ourselves. We got help from a radio promoter for radio play. Our label and digital aggregator also helped a lot to ensure visibility.
R: Yes, social media and email blasts was our primary way to reach out to fans. In addition Our label ensured visibility on sites like iTunes and Amazon. BFM, our digital aggregator, got us on the home page of iTunes in 8 countries.
Q9: Who is your publicist for the album and what role do they play in promoting it as compared to what you do yourselves DIY?
R: Our publicist is Ron Roecker [Enfluencer Group].We hired him to help us out with our press releases, and sales. He is a great person to work with and has tons of industry experience. He handled the basic growth of the album, reaching out to our purchasing audiences and finding newer audiences thereby maximizing awareness and sales. Basically, he helped with the organic growth of the album. The biggest advantage of working with a publicist is avoiding the learning curve in terms of market experience and sales.
[Tweet "The biggest advantage of working with a publicist is avoiding the learning curve "]
Q10: Who is your physical album distributor and what kind of support did they give you for the album?
W: We're distributing through Clay Pasternack [CPI Distribution] and he made sure that the product is available and visible.
Q11: What kind of radio promotion did you do and how important do you feel that was for your Billboard ranking?
W: We got some great radio play [organically]…
R: We also worked with two radio promoters. One targeting the ZMR [Zone Music Reporter] World Charts, the other targeting the CMJ College radio charts.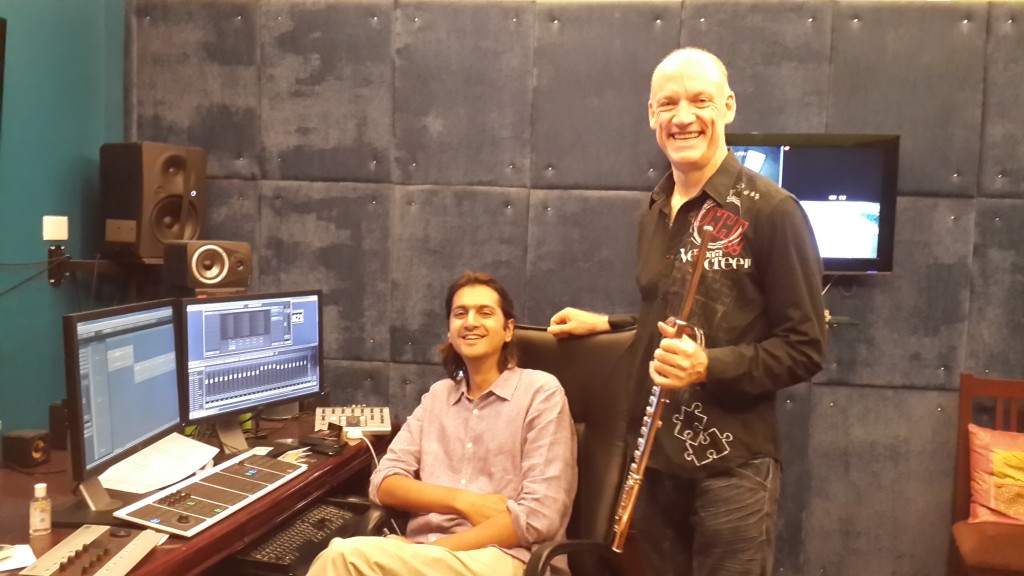 Q12: This album has so many various and talented musicians on it and was recorded all over the world – from South Africa to India and points in between. I recently met two of the folks from my home town, Seattle, who collaborated with you on this album! Can you talk a little about the role of collaboration with other musicians – both as a musical strategy, but also as a co-marketing strategy?
W: In our case the primary reason for the collaborations was musical – we got some amazing musical input!
[Tweet "There are 120 musicians on this album"]
R: There are 120 musicians on this album, each musician was either selected or naturally became a part of the process due to the comfort we have in working with them.  The only reason a musician was on the album was for their skill, talent and musical ability. For marketing and strategy we hire publicists and radio promoters.
Q13: Can you talk a little about a singles release and promotion strategy vs. album release and promotion? Did you release any of the singles ahead of the album, or was it pretty much the album dropping in July all at once?
W: We didn't do any early single releases, might be something to consider for the next time.
R: I am not a fan of singles, especially for the New Age Genre, where it is always about the album experience. I always prefer to give my audience a complete hour experience. If I ever release a single, it would be because there were no other option.
Q14: You have now released several videos for tracks on the album. Can you talk a little about your video/YouTube production and marketing strategy?
W: We actually have 6 videos available now. Many people consume music on Youtube these days, so it's important to have videos available. We spend a lot of effort to try and make the videos absolutely beautiful.
[Tweet "Marrying your music to a visual interpretation is very daunting"]
R: Videos are always difficult to make, because marrying your music to a visual interpretation is very daunting. It's just the same with converting a best seller into a Hollywood movie. We managed to work with some excellent film makers, who interpreted the music in their style. Videos are very important because most people would prefer clicking on a YouTube link rather than a Soundcloud link. YouTube is still the No. 1 way to find new music.
[Tweet "YouTube is still the No. 1 way to find new music."]
Q15: I see that you are actively promoting the album and music videos on Facebook (posts, promoted posts), not as much on Twitter. Can you talk about which social media channels you chose to focus on and why and how (advertising, etc.)? How do you divide the social media work up between the three of you?
W: Yes, we have focused on Facebook – we're not that strong on Twitter yet and have to do some work to improve that as well. Ricky and I both handle our own Facebook posts and Tholsi helps where she can.
R: True, we handle our own Facebook accounts, and we make all our Facebook posts as personal as possible. We would love to promote on Twitter too.
[Tweet "We make all our Facebook posts as personal as possible"]
Q16: I heard a rumor that Tholsi set up some kind of street team that hands out CDs – can you tell us more about that?
W: Hahaha, it's the first time I've heard of that! No, we don't have any street teams set up!
R: We are New Age.. I don't think street teams exist for our kind of music.
Q17: It seems like Wouter is doing a ton of touring right now, of course supporting the album. Can you talk a little about the role of live performances and how they related and support the promotion of the album and vice versa? What kind of work happens behind the scenes to book and support marketing these events and who does that within the group of the three of you?
W: Yes, performing is very important to support the album I think, and the album helps market the shows as well. There is a LOT of behind-the-scenes work to make this happen and Tholsi does the bulk of that work.
R: Yes, Wouter did the Grammy Museum in LA, and the Carnegie Hall in NY. Now he is doing a few charity gigs in NY. The week he did the Carnegie Hall Show, our sales rose and we hit the No. 2 position on Billboard (on week 11) which was very encouraging.
Q18: Do you make money touring (performance fewws, merchandise, etc.) or is it pretty much a break even? Where would you say the majority of the partnership's revenue comes from? 
W:  If we arrange the shows ourselves, we make sure to at least break even on the shows itself, but manage to sell very well and and make some money on the CD's. This all helps to get the music out there, and also results in some very well-paid corporate or festival performances.
Q19: I met Wouter and Tholsi at a social event in Seattle. What role has your submission of the album for a Grammy in the New Age category played in your overall promotional plan?
W: The Grammy submission needs some promotion in itself, to make sure that people know about the music, and that's [just] one part of the overall promotional plan.
R: Any awards process needs an awareness campaign. The first and only step is to get as many people to listen to your music and hope they connect with it. Also since you, yourself, are part of the system, it becomes your duty to listen to as much music as possible to ensure you make an informed choice before voicing your opinions. There are many ways to reach out to people, the best way is the old fashioned way of meeting people personally and having coffee or breaking bread together.
[Tweet "Best is the old fashioned way of meeting people and breaking bread together"]
Q20: Let's talk about cause marketing.  I understand Wouter has set up a charity that has sponsored the living expenses of ten children in South Africa for 14 years. That's quite an accomplishment and has gained him recognition as a nominee for the Inyathelo Special Recognition Award for Philanthropy. Obviously his philanthropic activities are deeply rooted and not just a promotional gimmick. Can you talk a little about how you see your philanthropic goals interlock with your musical goals?
W: I started my support of the SOS Children's Villages in South Africa before I became a full-time musician, so it's just something that I want to do that doesn't necessarily connect with music. I think as musicians we do have  some visibility and can use our voices to encourage others to do the same.
R: I started my not for profit work with Dog Shelters. I support many shelters in India, and the issue of stray dogs in India is a very complicated one. I am also working towards building an orphanage which will start functioning in 2019.
Q21: Are there are specific things you did to market the album that surprised you in how successful they were? Were there any unplanned promotional opportunities that came up?  Are there any marketing things you did that really didn't work well which you thought would?
W: I have found social media and one-on-one contact with supporters to be very powerful.
R: I feel most of our stuff was very meticulously planned.. and very painstakingly executed. So there were actually more disappointments rather than successes because we had kept our targets very high.
Q22: What advice would you have for other indie artists as far as the keys to successfully promoting their albums without a label backing or PR agency?
W: You can do everything yourselves, but it needs 18 hour days (!)
R: You can DEFINITELY do everything yourselves. Do NOT be in a hurry to release an album. Wait for the right time, Ensure you have the funds to promote, and just because its good music- you will NOT get an audience.
Thank you so much for agreeing to do this interview! Where can people watch your videos, interact with you on social media, see Wouter's concert schedule, and listen to and purchase the album Winds of Samsara?
https://www.facebook.com/kellerman
https://www.facebook.com/rickykejmusic
More about Wouter Kellerman: Interview in On Purpose Magazine
More about Ricky Kej: An interview on the Abhisheksn blog