A friend of mine recently asked me about SEO (Search Engine Optimization) tips for his music industry and marketing website. Now, I'm by no means an SEO expert. However, I love when people ask me questions and I don't know the answers, because it's an excuse for me to do research. I knew I could improve the SEO on my own websites with what I learned, and also pass that information back to him, thereby placing him forever in my debt. Just kidding about the debt part. But I do enjoy building long term relationships based on openly sharing practical information that helps others.
Like my Dallas Seo friend with this tip, "When one person asks, it also means there are probably other people out there who would be interested in the answers."
I've posted links to the articles I found in the process of doing my reasearch at the end of the article. I want to give a special shout out to Stan Smith of Pushing Social, whose recent webinar on 7 Blog Marketing Tactics was especially useful in the section below on SEO for images.
What Is SEO For Musicians?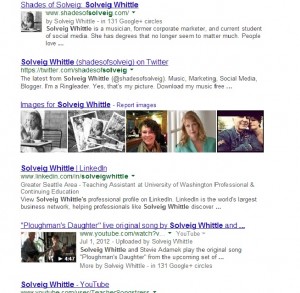 SEO stands for Search Engine Optimization. All this means is that if someone searches (Google, Bing, Yahoo, etc.) for either your personal name, your band name or perhaps even for the type of music you play (eg. "dubstep Celtic"or "ukelele classic rock cover band Seattle"), your website will appear at the top or close to the top of their search results.
Have you Googled yourself or your band name lately? Try it and see what comes up. You might try also your musical genre if it's narrow enough. My results are shown above and to the right when I Google my name, and below left for when I Google the words in my band name, Solveig Stevie.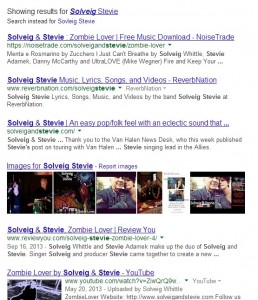 Just remember to go "Incognito" or "anonymous" before you search yourself, otherwise the search will take into account all of your own recent searches, and might be skewed. You want to see what the average person will get when they do a search, not your own "tailored-by-Google" search. There's more in this CNET article on how to search anonymously in other browsers such as IE and Firefox as well as Chrome.
Organic vs. Paid
Organic search results are those which appear in the main body of the results that come up on your browser. Paid results are those which result from purchased advertising from Google (or other search engines). Ad (paid) results are highlighted and come up at either the top or along the right sidebar. In this article, I will not be addressing paid results, just organic results, for three reasons:
most musicians don't have budget to pay to elevate their search results
paid search (PPC, Pay-Per-Click, AKA advertising) is complicated and most DIY musicians are unlikely to spend their money effectively without the help of someone versed in online and search engine marketing (SEM)
most importantly – research shows 94% of people click on organic search results and ignore ads anyway.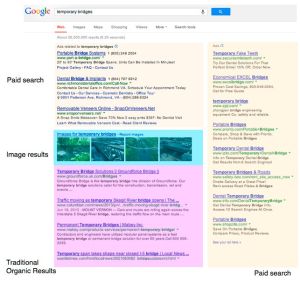 Your Results
Were there any surprises for you in your search results? Did your band or personal music website come up at the top (or close to the top) of your search results? It's important to realize that even when the top search results are music-related sites like your Reverbnation, Noisetrade, or Soundcloud account, or even your Twitter account or Facebook page, what you really want is people to see your band website first.
Your website is where you have the most direct control over your branding, messaging, offers, merchandise, and streaming your music. If your band website didn't come up in the top few organic listings or at least the local business listings, here are a few things you can do to help elevate its page rank.
SEO Takes Time And Beware of Black Hats
First, note that using the tactics I'm going to discuss will not change your SEO results overnight. If an SEO consultant comes to you selling the idea that he or she can instantly elevate your website SEO – run the other direction. Fast. For the most part, good SEO tactics are the little things that you implement consistently on your website and in your social media that, over time, bring better and better results. They come from having quality content on your website that is updated frequently, and from your active participation in the online world (like social media).
There are "black hat" SEO practitioners out there who employ a variety of shady techniques such as keyword stuffing and link buying. As my friend, musician and social media maven, Stan Stewart (@muz4now), told me: be suspicious and do your homework before laying out money to hire anyone who claims they can improve your website SEO. If you don't understand what they are doing in bowels of your website, be wary. It could backfire. Technical changes Google has made to search in the past three years have resulted in the tanking of the search rankings of some websites. The best (and cheapest) advice I have heard from most website prosfessionals is to do your own SEO optimization as outlined below.
The Two Keys To Organic SEO
Where your website appears in the list of search results is based on an algorithm Google uses caled PageRank. PageRank was named after Larry Page, one of the founders of Google. PageRank is a way of measuring the importance of website pages. According to Google, PageRank works by counting the number and quality of links to a page to determine a rough estimate of how important the website is.
The most effective things you can do to improve your website's organic SEO over time are work to
increase the quality of content on your website
change (update) the text on the home page of your website regularly, preferably daily, and
make sure you are "tagging" everything you put on your website (text and pictures) so Google can find it and lead people back to you
Posting Fresh (Text) Content Regularly
The number one thing that drives better search results is new content. The last thing you want is a band website that is static, where nothing has changed on the home page since 2007.
Google's web bots crawl the internet every minute of every day, indexing (looking at the text on and links to) your website and other websites. If you are regularly publishing "high quality" content, you will attract more people linking to that content, and thus more people will link to your website. High quality generally means unique content like blog posts, pictures, concert announcements, and fan interaction or comments.
Note that Google also owns YouTube, the number two search engine after Google itself, and the number one music search engine. So having a YouTube channel and posting regularly to it, and linking it to your website, is good for your SEO.
In addition to indexing all the text content on your website, Google also indexes all the images on your website. The "tags" on pictures and videos, also known as metatags or metadata, is an important part of search. Please, if you have a website which is all Flash, or only images on the home page (without tags), redo your website. Flash, because it is often not tagged, is not good for your website's SEO – unless you are Starbucks or Godiva and have built your brand awareness already.
The Impact of Blogging On SEO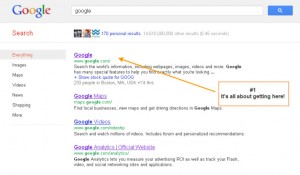 Maybe you're already blogging daily on your band website. Maybe you're not. Hey, I try to blog every two weeks, but I'm no angel. I do tweet, and I do post on Facebook and Instagram more frequently, though. All of that helps my SEO.
Writing a blog entry is adding high quality, unique content to your website. You can also write a short blog entry every time
you have a new show or tour to announce
there is a contest or award you are participating in or have won
someone publishes a press article or album or show review on another website – post an excerpt and a link to the rest
anything new happens with your band (new rehearsal space, new band member, new video, new baby, new haircuts, )
you email a newsletter to your fan base
your thoughts on something related to your band, or related to current events
This is the part in this post where I get on a soapbox about learning how to post updates to your website:
If you, the artist, or someone reliable in your band, do not know how to update your own website in one or more of the ways listed above, or if you are willingly leaving the ongoing update of your website content to someone else not directly invested in your career (a web designer, your cousin, your girlfriend or boyfriend, the drummer), it's time to change that.
You cannot wait for someone else to post your gigs, your even posts or Tumblr entries. There is no excuse to have ceded the timely content update responsibilities to someone not closely integrated with your band. Use Bandzoogle, HostBaby, or WordPress to create a website you have full control over.
You can create your own WordPress site, but it is also pretty inexpensive these days (under $1000) to hire a professional to design a custom website that you can update with new content on a regular and frequent basis. See the list of links below for some of my recommendations.
Social Media and SEO
Although Google says it does not used detailed social media data to determine SEO rankings, it's true that the more active you are on social media, the more "online footprint" your brand (band name) will have. If you link your website to your Facebook and Twiter profiles, your Google+ and your Tumblr account, people are more likely to click on it and link to it. Don't go out and start a Twitter account just for SEO reasons, but if you are active on Facebook and Twitter, it will help your SEO if linked back to your website. I'm very active on Twitter and you can see that my Twitter account shows up as number two in my search results.
Google Images and Search: Fill In Title and Alternate Text
Search loves text, but images are slightly harder to search. Images that you post to your website can and should be made searchable with tags to help increase your SEO ranking. If you take the time to at least fill in just the the following information when you post any kind of image to your website, it will pay dividends to your SEO.
What text should you put there? Think about what text most uniquely identifies this content as belonging to your band. It could be your blog post title, your band name, or your album name. If you are posting a picture of a band member to your website's Bio or About page, put something like "Joe Schmoe Drummer for Your Band Name Here" for both Title and Alternate Text. You can put the same text for both entries.
I admit I haven't done this for all the pictures on my websites, but I plan to from now on.
WordPress Plugins For Image SEO
(Ignore this section and the next if you don't have a website built on WordPress.) If your website is WordPress, here are a few plugins that can improve your SEO by automating the process of making your images more searchable by Google and building links back to those images on your website:
SEO Specific WordPress Plugins
I would be remiss if I did not also mention two of the more popular SEO plugins for WordPress. I use All In One, but I have also heard good things about Yoast. These plugins automate a lot of the on-page SEO that you need to have a truly professional website with WordPress.
All In One SEO Pack – Automatically optimize your WordPress blog for Search Engines such as Google. Premium (paid) versions do more.
WordPress SEO by Yoast – Billing itself as the "most complete SEO plugin," Yoast offers several WordPress plugins to optimize your WordPress SEO, built around one core WordPress SEO plugin.
Google+ Authorship – If you are blogging on your band website, this is an important plugin that will help link your Google+ account with your blog. If you have no idea what I am talking about, don't worry, you probably don't need it.
That's all!
Here are some more resources for learning about SEO and how to improve it for musician and band website. If you have other resources to share, please do so! I'd love to hear your comments and feedback
SEO For Musicians – Don't Chase the Algorithm by Clyde Smith, Hypebot.
Pushing Social – a website on blogging and social media from Stan Smith, co-author of Born To Blog with Mark W. Shaefer and author of the top social media blog according to Social Media Examiner for 2012 and 2013
Articles from Michael Brandvold on SEO For Musicians
9 SEO Tips For Musicians by Lior Levin on Hypebot
5 Essential WordPress Plugins To Boost Your Search Engine Rankings by Jeff Bullas
Learn about SEO and Social Media on the MOZ Website – For the truly geeky, Moz is a social media and SEO agency located here in my hometown of Seattle. They have some great resources and free guides on their website if you want to really dive into SEO.
I can personally recommend the following two people for WordPress website development and consulting because they each created a WordPress site for me: Michael Brandvold (@michaelsb) and Brian Thompson (@thornybleeder) (web and marketing consulting only).
Here are just a few of my other fellow music marketing colleagues whom I also feel confident can create a band website for you based on WordPress: Ross Barber (@ElectricKiwi), Madalyn Sklar (@MadalynSklar), Seth Jackson (@HowToRunABand).