Occasionally, I like to interview other musicians who strike me as having an unusual thing going on – whether it is their look, their music, or their marketing. I'm always learning, and it's great to have role models. When I came across musician Elyas Khan and watched his music video, I thought, huh, here's a guy who has these elements very together in an unusual way that appeals to me aesthetically.
I think there is a lot of marketing to learn from this actor, dancer, musician, singer and performance artist. He has been Amanda Palmer's backup band, and Neil Gaiman and Sxip Shirey played bicycle bells on one of his newest songs (read more on that below). Now based in Berlin, Khan is  touring Europe in support of his newest release, Brawl in Paradise, produced by Matt Booker. I interviewed Khan via email because I was curious to know more about him and his music. Check out his music video Bells, too, it's uber cool in so many ways.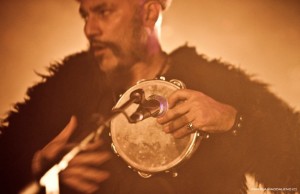 S: Thanks for agreeing to this interview, Elyas. I was really intrigued when I stumbled across your latest music video, Bells, on Twitter. I couldn't look away, actually.  Then, when I delved deeper into your background, I was further flummoxed. The biography on your website is fairly brief. Can you give us a little history and background on you as a musician? I see from your bio that you were in the Brooklyn-based band, Nervous Cabaret, for many years, and you have a very international background. Can you give us a little more about how long you've been making music? Do you have another career (as many musicians do) in another profession, or have you been a fulltime musician your whole life?
E: Now music and composition are my fulltime job. My history as a musician is truly only 10 years old though…Out of high school I only had fantasies about the whole thing and fooled around with a punk band called "The Sarcastic Brats" but the guitar was sold early on, school was abandoned and I worked various jobs just living for the weekend. Buying records, new threads, getting to gigs, watching other guys chase women around and jotting it all down in massive leather-bound journals was what I was up to…I dabbled seriously in film school for a while and did well with my profs.
As with many things in my life at the time I just could not complete the program. 16mm film, processing costs and the time it took was just overwhelming to me. I was already doing a late night shift for UPS and washing dishes at a local bistro to keep my head above…
I forged many friendships with kids that were going to art school and got to pour over their books constantly and then someone approached me at the bistro. That place, The Loring Cafe in Minneapolis, was run by many Guthrie Theater and Children Theater alumni. They were about to adapt Siddhartha by Hermen Hesse for their new theatre venture. I was young and probably the only person they knew with Indian parents so they asked me to audition. I did, along with several hundred people and got the job. That started a long chain of events including dancing for a Ballet company, setting up my own company in Minneapolis called Famine Chorus, moving to New York and studying at Playwrights Horizon and then establishing a very active performance company called The Dean Street Field Of Operation (F.O.O.) and creating tape based, cut up scores with found sound and badly played instrumentals for our shows. The whole time I worked as a delivery boy of various goods (don't ask) and as a mover (don't ask). I got my SAG card and if you watch some old episodes of OZ and a number of shit films from the 90's you just might spot me. The entire time I was intent on getting my head around finessing story telling techniques, theatrically, with film and scoring.
The very short of it is that when that all fell apart 7 years later I walked drunkunly into an open mike at Between the Brides Bar in DUMBO Brooklyn at the behest of a friend and sang an Irish shanty. Jan Bell, the host, asked me to come back and that is where I developed the music, the band and the rest…
http://www.cdbaby.com/cd/jbcheapdates Jan Bells album "Songs for Love Drunk Sinners"  – I sang a solo on Miners and it was Alt. Country Album of the year Independent Music 'People's Choice' Awards. Produced by Samantha Parton of The Be Good Tanyas.
http://youtu.be/C60iAg1xQOg The Dean Street F.O.O. PS 122 NYC
http://youtu.be/qaJm_EdnvmQ Me as Young Rebadow in Oz (yes, that is one hell of a wig)
S: The Bells video and song – the look, the sound, the rhythm track – I just love the emphasis on the bass line, it's really distrinctive and arresting. Is that really Neil Gaiman playing the percussion? What's the back story on Neil's participation, and what was the inspiration for the song?
E: The song initially had a very different approach with what is now the B part on the album version being the main theme. I liked it but it just felt overly earnest with no core…I was listening to Walking on Thin Ice by Yoko Ono one night with Matt Booker (my producer who I convinced to work with me) and was just blown away by how fucking ballsy, open, wild and funky it was. The next day I had my bass line.
The Bells concept came from an old note book entry where I was obsessing about the city of Rouen, France. Joan of Arc was executed there in front of the main cathedral. Nervous Cabaret had actually played in that very spot for an out door festival and when the bells chimed it was haunting; as if the cathedral was an anthropomorphic character that was trying to tell us an encoded, secret message. It was weird and stuck with me.
I have a very talented friend and sometime collaborator named Sxip Shirey. He had been touring with Amanda Palmer and Jason Webley and were in Berlin for some shows.  I live there and we held a party in Gorltzer park for Sxips birthday. Amanda and Neil had created a most extraordinary present for Sxip which has since been dubbed the Sxipenspiel: a candelabra up the stem of which were attached bicycle bells of various pitch. Sxip wasted no time in getting on the thing and along with Neil played it immediately: the two of them. Four hands playing the same instrument. I filmed it on my little camera and rest is history…There are many other sounds on the record by unexpected creatures also… http://youtu.be/kNhoTgh-wWc
S: So how did you end up working on this solo project in Berlin with a British producer? Are you based in Europe now and what drove that move from the US?
E: I needed space. New York lacks that. I needed affordability. New York lacks that. I needed time to develop my craft. New York lacks the sense of development time, it's more of a market for finished goods. I had been touring Europe and was born in London. It didn't seem so strange to me to go searching in Europe. I also had an agent in France who, God bless him, kept getting me gigs even though a new record was long overdue. I had been in NYC for going on a quarter of a century. New horizons…
I spent intense working periods in my little studio and then hours riding my bike around the city, capturing sounds on my camera, writing, busking for drinking money etc…One particularly gorgeous day it suddenly hit me that I had no close friends here. I went searching. I saw in my notes that I had met an Englishman several months earlier who lived here. His name was Matt Booker. I looked him up and rang the door bell. The next year or so we got to know each other and when I was at capacity with over fifty different pieces on the burn I popped the question to Matt to which he agreed to produce the record.
S: You've shared the stage with a lot of interesting artists like Animal Collective and Sonic Youth. I guess given the theatrical nature of your performances, I can also see the influence of another artist you've performed with, Amanda Palmer – or perhaps of yours on her. Amanda did a house concert for me here in Seattle, and I really love her performance style. How did you meet Amanda and Neil? Who are some of your closest musical influences and collaborators?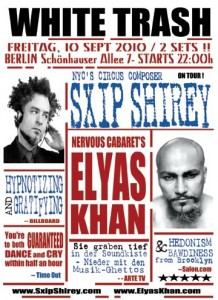 E: I met Amanda through Sxip Shirey. He recommended my then current outfit Nervous Cabaret to be her backing band in I think 2011. It was wonderful. To be honest it really surprised me. She is a rare animal indeed. Very inspiring. It's all possible with her. Neil came along for some of the shows and we were introduced though I can not say we formed a tight friendship. Ships passing in the harbor as it were. Amanda, her music, attitude, genuine respect and solidarity with her fans and crew just impressed me to no end. I had to go back to Berlin and dig in hardcore and I did.
I feel that musically the gentlemen of Nervous Cabaret, Brian Geltner, Fred Wright, Sam Kulik and Kenny Siegal were my closet musical collaborators because they were patient with me, all being veterans, and taught me what I needed to get to the next level.
Then the likes of Sxip Shirey, 17 Hippies, Matt Booker, my wife and manager Melissa Fowler, Romain Vicente, all the crew in The Dean Street F.O.O. Puppet maker Eric Novak and Theater director Sarah Provost are huge..
http://youtu.be/NnuHfIrCC0M Nervous Cabaret W/ Amanda Palmer – House Of The Rising Sun
http://youtu.be/sgpBqB-wV5Y "Flamegirl" Co written by Director Sarah Provost and perform here with 17 Hippies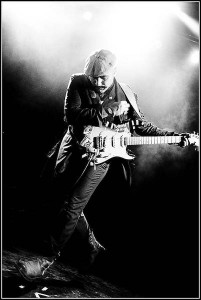 S: There was a recent article in Hypebot that discussed the idea that often how an artist looks is more important to audiences than how they sound.  I love your visual and sartorial look, and the look of the Bells video in particular. You look a bit like a punk pirate –  I can see the Johnny Depp influence. The word "djinn" comes to mind. How important do you think having a signature visual look is for an artist? How did you develop yours?
E: Cultivating a look is important if it's fun for you. If it makes sense to you. It's wild, I remember coming back to NYC from tour one day and folks telling me that Mr Depp had just ripped me off. They were like "…you sure he hasn't been following you around or what?" I then saw the trailer for the pirate film. Hmmm.
He has never been an influence on my look though it's certainly flattering to compared to him.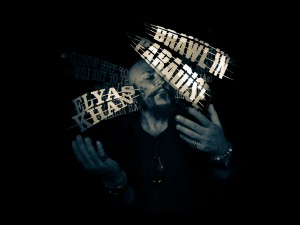 I feel bad for saying that for some reason as it may be what some might expect.
My heroes in the cool department were Joe Strummer, Dexter Gordon, Tom Waits, Joan Jett, Edith Piaf and Qawali Singers The Sabri Brothers. The main principle being that one's outward appearance is just an other element to play with. One can tell a story with it or at least lead folks to one. I used to be told by agents that I had a good face for a bad guy; so I used it and in the immortal words of Jessica Rabbit I replied "I am not bad, I was just drawn that way" 😉
It's hard enough to get the music out. I feel that one must do what one can to lead people to the music without feeling like shit about it.
I shave my head and for hereditary reasons my beard has a character of it's own. I have learned to sculpt and work with it. Why? I have climbed Him-Elyas (a reference to that massive mountain range) because I was there. It keeps me occupied and happy. And there is another thing: After spending a considerable amount of time developing such look I end up looking like someone you'd pay to see.  That's an old line from James Brown
S: "A big sweaty mass of punk, Gypsy, jazz and dub."  and "Think Tom Waits as Qawwali Gypsy King" are words that have been used to describe your music. Do people have trouble articulating the style of your music? You are clearly an individualist, which I can relate to. Do you think this is a benefit or hindrance to your success as an artist?
E: Some people have a difficult time some do not. All have difficulties narrowing it down. I've been enjoying the "Funk Noir" tag recently. Developing a one's own signature, being regarded as an auteur is profoundly beneficial for artists: it's precisely what makes an artist an artist in my opinion. With perseverance, the cultivation of ones imagination, craft and curiosity this will be developed over time.
On the other hand it can be a complete nuisance to a marketing team.  I have no plans on resting on my laurels.
S: I hope you won't be offended, but one of the things that struck me when I first watched Bells was that you are not a young twenty-something artist. Neither am I, and the issue of success as a more "experienced" artist in an industry that seems to value youth and "the next big thing" always interests me as a discussion point. How do you stay relevant in the industry? Do you have any words of advice or tips for older artists?
E: If the world around is relevant to you then you will be relevant to that world. Chose your world as best you can. Don't take the industry model so seriously, they are only curious about one monolithic thing, you are curious about everything. One of the things that is going on is that You Are The Industry and you can think and act for yourself. We are after value and quality and meaning and methods to assuage pain and anguish. That is our product. I am personally going after a long life full of such things. When I hear nonesense, clutter and cultural confusion I feel I have an advantage not a disadvantage. Industry deadlines and quotas have nothing to do with ones' well being. Read history, both old and current; study the methods, both old and current; you do have time; have a blast, hang with everyone, both old and new, share with everyone, be brave, rock the fuck out, sing babies to sleep, get better, help others to get better, there is a better and there is a worse believe me.
S: You were born in London, raised in New York, and are of Pakistani heritage. How does your multicultural background inform your music?
E: Mostly through food, humour and stories in several accents and languages. Wine and whiskey help. Then after a nap the record collection and listening and playing together.
http://youtu.be/FVIUAKHoM8c The Sabri Brothers. My mum and I would dance around to this stuff after Sunday lunch while Dad sipped a beer and read Urdu poetry. The Sacred and profane mixed in perfect harmony.
S: I notice that from a marketing perspective, you are pretty active on Twitter and Tumbler, but less so on Facebook. Can you describe your social media strategy? Are you personally involved in it or is driven by your label, Vicious Circle? What suggestions would you have for other artists on building a fan base using social media?
E: I do all I can because I find it interesting. I'm finding my own pace and developing something workable. I thinks it's easy for folks to feel overwhelmed instead realizing how all this can really help. It is also useful for me to work out how best to phrase this or that over a period of time. I do quite a bit on my personal FB but now I am programming my own website and always looking for content I think can be interesting to people. Twitter is like a 140 word haiku which to me is a really fascinating and immediate way to harness content and develop editing skills. Tumblr is a great way to be visual and detailed. Amanda Palmer is one to really look at for this and couple years back I thought Gogol Bordello and Radiohead were wonderful at it too.
S: I see that you released your new solo album, Brawl in Paradise, in France first, and you are about to launch a European Tour. Your album became available on iTunes and Amazon September 24, a bit later in the US. Your music is all in English. Given your prior band was US-based, what is the the thinking here? Are you windowing the release purposely? Do you think American artists are more likely to experience a breakthrough in Europe  – kind of the "more popular if you're the exotic outsider" syndrome? Do you have any plans to perform in the US?
E: American artists, like any artists, need to do what is real: at first work locally and think globally as much as possible. See what is front of you and explore what is elsewhere.  Try to be good. You don't want to be an abandoned exotic fluke once people realize the novelty of it all.
I could consider myself as an outsider everywhere in a certain sense, both in the East and West.
In many ways I am an insider too, depending on what room I walk into. It's always like this.
The main reason staggering our release is to make sure we do justice to each territory.
We have two labels: London based BBE (Barely Breaking Even) that release world wide and Vicious Circle who release in France and Monaco.
So Far we have been focusing on the UK, Germany, Holland, Belgium, Italy Switzerland and France.
Next up will be the USA (through Red Eye Distb), Japan and Australia.
It's a lot of woman hours and we run a small business so we will take our time and grow our relationships with the various crews we work with. Things build and the essential aspect to all of this is momentum and consistency I think.
I am still learning a lot so we'll see.
 S: Thanks so much, Elyas, I'm looking forward to listening to the whole album. Best of luck with your ongoing tours and the new album. Where can people find you?
E: For the US
Itunes:    http://tinyurl.com/n62jp8l
BBE:        http://tinyurl.com/n62jp8l
Amazon: http://tinyurl.com/ly2ntp3
Juno:       http://tinyurl.com/ltmfvg2
For France
My site: http://www.elyaskhan.com/ Get tour and other info here.
Twitter: https://twitter.com/Elyas_Khan
FB music page: https://www.facebook.com/elyaskhanmusic
Bells Music Video: