She was featured in Guitar Player magazine in 1974. Rolling Stone did three stories about her in the 1970s.
 "There would be no Bonnie Raitt without Alice Stuart." – Dick Waterman
If you want to know how to be successful long term in the music business – and how to continue to be successful in the 21st century new online, Do-It-Yourself model – you would do well to study the example of Seattle musician Alice Stuart.
She may not be a household name, but Stuart is a pioneer with a loyal fan base who has had remarkable lifetime success and longevity in a tough industry.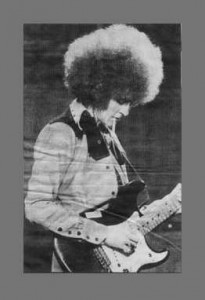 A Trailblazer For Women in Rock
Alice Stuart blazed the trail for women in rock and roll as one of the only females in the country to write her own music, front a male band, and play lead guitar on national and international circuits.
Stuart has played with many greats, including Jerry Garcia, John Prine, Albert King, Richard Greene, Elvin Bishop, Joan Baez, Doc Watson, Phil Ochs, Mississpi John Hurt, Frank Zappa, The Chambers Brothers, Tower of Power & Commander Cody.
A Versatile and Tireless Collaborator
Stuart began performing professionally in Seattle during the early 60's, and was first "discovered" at the Berkeley Folk Festival in 1964. She was invited back to the Festival by creator/producer Barry Olivier to perform in 1966, and 1970, where she formed a friendship with Mississippi John Hurt, which led to the two touring together.
Billboard magazine reviewed Stuart's debut release in 1964 with: "A beautiful new female voice is now on the folk horizon. Its owner's name is Alice Stuart. She sings with a clean freshness that is exciting in its simplicity. A folk find!"
In 1965, Stuart joined forces with Frank Zappa during the formation of the Mothers of Invention.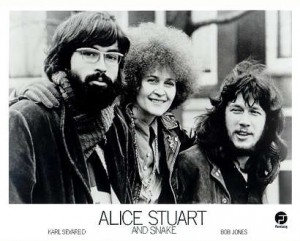 Then, in 1970 Stuart formed her first all electric band, "Snake," which included Bob Jones (We Five, Southern Comfort), and Karl Sevareid (Robert Cray). They played many noteworthy venues (Winterland, The Fillmore, Golden Gate Park Concerts) in the Bay Area, plus 2 successful European tours. They also appeared on the Dick Cavett show with host George Carlin. In 1972 they recorded "Believing" for Fantasy Records. You can still purchase Believing (in vinyl) on Alice's website.
Ever the versatile artist, in 1972, Stuart also sang the title theme song to the X-rated cartoon movie Fritz the Cat.
During this period, Rolling Stone Magazine proclaimed "…she gave herself over totally to the performance .. she sings with a raw, emotional directness." Guitar Player Magazine called her "lithe and funky with a natural warmth and animation…skillfully picking on the Fender Stratocaster."
After a brief hiatus in the 1980s to raise a family, Stuart returned to music in 1996.
Marketing Herself, Competing, Playing Live In Seattle And Touring Into The 2000's
Stuart has made 9 albums (maybe more). Until recently, she toured and played actively. She uses social media and email to market herself. Savvy about the music business, Stuart remains charming and articulate. She wears Converse All-Stars exclusively at all her shows, and has gotten an endorsement deal with Converse as a result.
Stuart calls her music American/Blues/Roots. She sees her biggest marketing challenge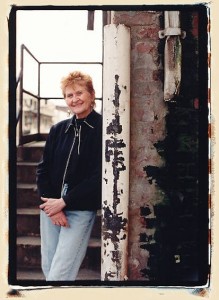 today as bringing in younger fans, whom she views as having the buying power and more free time to come see her perform than her older fans (whom, she makes the point, she still loves).
In 2008, Alice Stuart competed in  Memphis, Tenn., at the Blues Foundation's 24th-annual talent search, the International Blues Challenge. She continued to tour and recorded a live 2 CD album at the iconic Seattle venue, the Triple Door, in 2005.
Stuart is intelligent and experienced enough to have had success with her music career as an older DIY artist by being a savvy marketer, social media maven, a great songwriter and a tireless performer. I admire someone who, at 61, can still get reviews like this in major press:
"Alice Stuart inhabits the Blues, she wraps her voice around songs, squeezes the blues out of electric and acoustic guitars and tickles the dark corners of the soul with a bottleneck…two of the best songs on this CD are originals…" —Mark Whittington, the San Jose Mercury News, Sept 2003
Savvy Modern DIY Marketing
Before the advent of Kickstarter, when Stuart was looking for funding for a new album in 2007, she thought up a new way to put some of the finances together by reaching out to her fan base for support. She came up with a plan of tiered support levels, starting with pre-release signed CD's, to inclusion on the CD liner credits and ultimately a house party or two. She released a House Party combo pack so fans could "sit in their living room and experience a virtual house party of your own whenever you get the urge."
Below is a great video interview with Stuart where she talks about marketing her music today and the changes in the music industry, including getting publicity in national publications, touring, her website, newsletter and her social media marketing. Stuart also talks about the segregation of blacks and whites in the Seattle music scene, which I have also personally observed, and which I agree with her is perplexing and frustrating. Stuart's relaxed, down-to-earth interview is refreshing and enlightening.
Now The Bad News
Unfortunately, last month Alice had a stroke. She has cancelled all her shows for now, and is recovering.
Alice has been supporting herself her whole life through her music, but she can't continue (at least not right now) to make her living playing out. This is the life of most of the professional musicians I know: there are no great health insurance policies, retirement plans, or 401Ks. It's an exciting life when you're young, but it can be a hard road when you get older.
If you can, please consider supporting  Stuart in her time of need, as I have. I really admire and respect this woman for her intelligence, longevity – and most of all for her music. I am a big fan of slide blues guitar (some of my other favorites are Bonnie Raitt and Rory Block). Alice plays some of the best.
You can contribute to Alice Stuart's GoFundMe campaign here. There will also be a live fund-raising event in Seattle on September 29th at the Tractor Tavern with Heart guitarist Roger Fisher fronting Stuart's band, the Formerlys.
Stuart has a lot of fans who are wishing her a speedy recovery and a return to playing live here in Seattle, recording more of her great music and hopefully touring again. I hope you've become one of them.
Are there older musicians you know and admire? Are you an older musician continuing to make music? What are the rewards and challenges you see in making music a lifetime career?