It's Sunday, and usually Sunday is my day to spend with my mother. I take her swimming at the pool or lake and then back to my house for lunch in my kitchen, a visit with her grandchildren and a few ball-throws with my dog, Lucy. It's been a tradition for the past three years, since my mom moved out here to Seattle from her home in New Jersey after living alone for 35 years.
Today, I am writing about my mom instead in being with her in person. Yesterday, she passed away peacefully at our local hospice center, ten days after suffering a massive stroke. Within a few days of her stroke, she had lost the ability to talk, open her eyes much, or move her limbs or her body. She had not eaten or drunk anything since being admitted to the hospital. She was diagnosed a little over a year ago with congestive heart failure, and she had a number of other ailments common to 81-year-olds (arthritis, memory loss). With three hospitalizations in 18 months, we had all seen this coming for a while.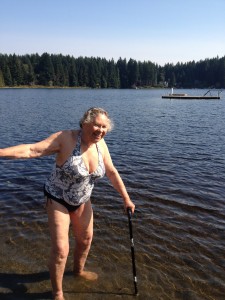 My mom had been very clear over the years with me and my sister that she was horrified by the idea of having to live in a nursing home, unable to walk. Certainly the idea of being unable to eat by herself, move much at all, unable to communicate with others, was the stuff of my mother's nightmares. She was a woman who swam laps in the gym pool four days before her stroke. She had been a long time supporter of the group Compassion and Choices, and was thrilled when our state passed the Death With Dignity act in 2008, just before she moved out here. So her passing relatively quickly was both a sorrow and a relief.
Death With Dignity
I know, TMI. But here's the thing: we talk so little about death in our society. I celebrate my mother's life today, but I also celebrate that she died the way she wanted to: her two daughters at her side, disconnected from beeping machines, unsupported by unnecessary and futile Western medical efforts to prolong her increasingly difficult life. She died with dignity and love all around her, including the amazing hospice staff. We all should be so lucky – and such good planners as my mother was.
In part because of my mother's recent poor health, I was motivated this year to contribute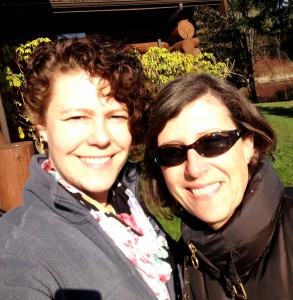 to TEDMED speaker Michael Hebb's campaign "Let's Have Dinner and Talk About Death," which you can read more about in this blog post by Chase Jarvis (Seattle media maven, internationally reknowned photographer and co-founder of CreativeLIVE). I passionately share Michael and Chase's sentiment that how we die is an issue we must all think about, and we need to talk more about it, not less. We fear and shun death, but I am here to testify that it can be an uplifting, positive, and indeed, a transforming experience. I became closer to my sister than ever before through this ordeal.
As we strive to take responsibility for our lives, and live the best we can, I believe we must also take responsibility for our deaths. We are all dying. We just don't know when it will happen. If we plan and make our wishes known, I am here to attest that it is possible to die in a way that is filled with love and peace and, above all, with dignity.
Living Your Dream
What does this blog post have to to with music, and with marketing? Everything. You see, I learned to live my life and pursue my own dreams from my mother. My mother was a frustrated writer and a self-taught photographer. In many ways, I am living my dream to fulfill my own artistic ambitions both in spite of… and because of her. She retired young, vowing to write her novel at last, now that she was done with the corporate grind and raising children – yet she never finished her novel. I vowed I would not follow her example. So I retired young and made two CDs and an EP. Now I am also a writer of sorts: a blogger.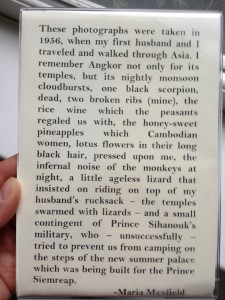 Although she never finished her novel, my mother was a woman of many achievements. She was a child of Nazi Germany, only a girl of 12 when the war ended. She grew up in both great deprivation and hopeful times. She came to the US (Camp Orkila on Orcas Island, as a matter of fact) at 18 in 1950, sponsored by a Marshall Plan program to woo young German labor leaders away from Nazi-ism and rebuild the German economic and political systems. She hitchiked around the world in the 1950s with her first husband, taught at a community college for a year, and almost completed a PhD on women's sexuality at the New School for Social Research in New York. She could read seven languages. She wrote for Time Magazine, from which she was fired for being pregnant with my sister. She worked for the New York Times Information Bank, The Journal of Alcohol Studies, and Warner Lambert (later Pfizer) as a translator, abstracter, and technical writer.
My mother also raised me and my sister as a single parent. She was the sole wage earner for most of her life, and she put both of us through Ivy League universities. She had six grandchildren, of whom she was extremely proud.
My mother represents the best of what an immigrant to the United States could accomplish: a resourceful woman, a thinker, a do-er and an idealist.
My Mother's Secrets To Happiness And Long Life
I write the word "happiness" with some irony, as my mother was not a happy person in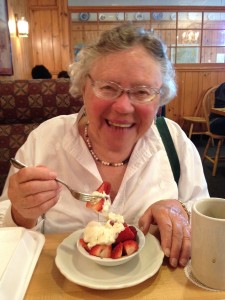 some ways, so much as a driven one. She could be narcissistic and was prone to depression. But she lived a long and very productive life. And there is no question she was a hedonist and taught me to enjoy food and the other small pleasures of living. I think a lot of what she taught my sister and I was very wise and far-sighted.
I am going to share just some of her many aphorisms in the hopes you will be inspired by my mother in both life and death. That is the best way I know how to continue to spread her legacy.
Cook your tomatoes lightly in a little olive oil, it releases the lycopene.
You don't need to buy rubber bands, they come with everything. You just need a drawer to put them in.
Rubbing a child's tummy helps a tummy-ache go away. So does doing bicyle kicks lying on the floor on your back.
Treasure your lifelong friends, they will matter when you are old.
Think happy thoughts before bedtime.
A beer a day helps you breastfeed (this courtesy of my sister – I can't say I followed this advice).
Lightly steam vegetables in half an inch of water instead of boiling them, and don't over-cook.
Always eat a protein, starch and vegetable at every meal, and eat your salad after, not before.
Everything in moderation, even moderation.
Try to avoid debt. Pay it off as soon as possible. Borrow from relatives if you must borrow.
Always stir (cake batter, boiling peas) in one direction.
Sing to your children, even if you can't carry a tune.
Chocolate is good, especially dark chocolate.
Go somewhere sunny for one week every winter.
Let your hair be itself.
Always go to bed at the same time, you will stay healthy.
Learn new things. Read a lot.
Don't eat candy, eat whole fruit.
You don't need a college degree to be smart, but it impresses other people.
Learn how to say "thank-you" and "where is the bathroom" in the local language.
Travel as light as possible. Always carry-on.
Alternate nostril deep breathing reduces anxiety.
Feed your kids a plate of raw vegetables before dinner when they are hungry and they will always eat them.
Support avant garde arts – off-Broadway, street performers, painters and other visual artists – anyone who expresses creative thought in an original and provocative way.
Eat berries whenever you see them growing by the side of the path.
All you need for a good basic pasta sauce is onions, olive oil, and some fresh chopped tomatoes.
Eat whole grains, and the occasional cream-filled dessert.
Any job is better than no job.
Always have lots of extra reading material on hand.
Pile on the blankets and sweat it out. It will kill the virus.
And my absolute favorite:
This too, shall pass.
If you want to know more about my parents, you can watch this short movie I made for my teaching class.
If you knew Maria, or even if you didn't, please leave your thoughts, responses, memories of her, or memories of your own loved ones here. I know my mom touched many people's lives, people I never even met. She was my mother, but she was so much more.