I am in the process of creating a new visual brand for my music. I am not including links just yet, because it's not quite done. Read on as to why.
This new "band brand" is for my duo, Solveig & Stevie, and it's separate from my blogging and marketing online brand (Solveig Whittle). It hasn't been a particularly fast or easy process. I'm certain much of this is due to my personal combination of obsessive perfectionism and lack of graphic arts skills. However, I suspect, fellow musicians, that I am not alone.

Perhaps you can relate: I've tried seven different WordPress themes for my band website. I have agonized over which band pictures to use. I created a band logo myself, after trying crowd sourcing one with two different websites. I started with one album cover, and then changed it.
Because this has been a difficult process for me, I thought perhaps it would be useful to share some of what I learned during this process and some of the online resources I used.
Visual Branding Is As Important For Musicians As For Other Brands
If you're like me, it is important to represent your music visually in a way that is consistent with your musical style, genre and personal values. I want my brand to
stand out
evoke a certain emotion (or at least NOT evoke negative emotions), and
look professional.
Plus, I don't want to spend a lot of money.
It's a tall latte order for an indie musician.
Subjective And Emotional
Like creating music, creating a visual brand is subjective, highly dependent on personal aesthetics and goals. Just as I am not a producer, but I know good music when I hear it, I am not a visual artist, but I know good design when I see it. It's a gut thing.
As a long-time professional corporate marketer, unfortunately I know all-too-well the importance of a well-executed, consistent visual brand. Big companies spend a lot of money on this kind of thing. I was spoiled. In the past, I worked with expensive agencies and their "creatives" (copy writers and graphic designers) on taglines, logos, colors and overall visual branding. We focused our visual branding on the tagline and visual logo which would represent the product (remember when software came in boxes?) on the box and on printed marketing materials (data sheets, endcaps, marketing "collateral"), and giveaway product-related merchandise ("tchotchkes") such as T-shirts, pens, and stickers.
In those days, the creative types were on the other side of the table from me. They wrote long, expensive concept-rich "briefs", and then presented me with lots of logos and designs that "embodied the brand values" we had outlined. The results were usually quite effective. Now I'm on my own, however, left to navigate this complex and emotional process on an indie budget.
Human Beings Are Visual
For any business, including a band or solo musician, a brand is much more than just visuals. Yet the visual elements are so important in marketing. Why?
Human beings are highly visual, and neuroscience tells us an image is more quickly recognizable than text.
Now more than ever, in this age of social media, visual content is king. It's a critical element of any brand's online presence.
A consistent visual presence implies professionalism.
An image expresses much about your genre and your music than just a text description.
Certain images and colors evoke emotions.
4 Basic Elements of a Musician's Visual Brand
Here are my suggestions from the process I went through: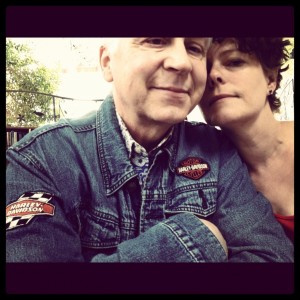 Pick Two Primary Brand Images: Use them consistently in your profiles across all social media channels.

Rectangular banner style cover image: a band picture or some other arresting image. Alternately, this could be your band logo and tagline.
Square thumbnail profile image: a headshot that you can distinguish when shrunk down, or, if you used a band picture for the banner visual, use your band logo here. Alternately, if you want to temporarily feature a new release, use the album cover here.

Color Palette: Choose a consistent set of colors that relate to the genre or feel of your music and use them across your entire online presence (website and social media). Pick 2-3 colors in that palette that you use over and over.
Typefont: Use one font consistently on your website and on any printed market materials or merchandise
Band Logo: Create a single graphic to associate with your band. It could simply be your band name in a specific font, or it could be a stylized version of your band name. It should be the type of visual you can shrink down or size up to print on all your merchandise – T-shirt, baseball cap or small sticker.
It's been an interesting process for me to work on a brand that means so much to me personally, one that I feel more deeply connected to the product (my music) than I ever did in my prior career as a corporate marketer. Becoming comfortable with our own image is not always easy, but it is a valuable learning experience.
Please share your reactions to this post below in the comments. What kind of experience have you had with developing your own visual brand for yourself as a musician, or for your band? Has it been difficult or easy? Share your tips and resources for others to learn from.
Additional Branding Resources For Musicians
(Yes, I have read all of these articles.)
Visual Branding & Musicians by Brad Bond, Mood Media Blog: http://blog.moodmedia.com/2013/02/visual-branding-musicians/
Visual Content Is King by Linda Schenck: http://www.virtuallinda.com/infographics/why-visual-content-is-king-infographic/
The Ultimate Complete Final Social Media Sizing Sheet by Dan Wilkerson: http://www.lunametrics.com/blog/2012/11/12/final-social-media-sizing-cheat-sheet (courtesy of Jody Quine)
Sites for crowdsourcing a logo (where graphic designers compete for your fee by submitting prototypes):
The Psychology of Color and Branding by Kevin Allen, Entrepreneur Magazine http://www.entrepreneur.com/article/226791
Top 4 Logo Design Mistakes by Amy Atwood http://www.coxblue.com/top-4-logo-design-mistakes/
50 Most Beautiful Band Logos Ever, from NME, http://www.nme.com/photos/50-most-beautiful-band-logos-ever/122015/1/1#5
A Concise History of the [Judas] Priest Logo, by Kimo Tattari, http://kkdowning.net/SpecialReports/logohistory.html (for my heavy metal readers – athough it's quite a fascinating read for anyone)
The Importance of Visual Identity, The Rockstar Branding Podcast #3, Michael Brandvold, Brian Thompson, and Steve Jones (Podcast), https://soundcloud.com/thornybleeder/the-rock-star-branding-1
Branding Essentials For Musicians on Day Of Show by Michael Brandvold, Brian Thompson and Greg Kihn (Podcast) http://michaelbrandvold.com/blog/2013/04/branding-essentials-for-musicians-on-day-of-show-on-rock-star-branding/
5 Things Your Band Needs to Consider About Branding by Kyle Valentic on CD Baby's The DIY Musician: http://diymusician.cdbaby.com/2013/03/5-band-branding-tips-for-independent-musicians/
Musician Marketing: Branding: by PS Print http://www.psprint.com/resources/musician-marketing-branding/
7 Branding Tips For Musicians Who Hate Branding, by Clyde Smith, Senior Editor at Hypebot http://www.hypebot.com/hypebot/2012/08/7-branding-tips-for-musicans-who-hate-branding.html
Communicating a Consistent Artist Brand by Julia L Rogers on Musician Coaching http://musiciancoaching.com/music-publicity/communicating-a-consistent-artist-brand/
Understanding Image and Branding As A Musical Artist by Jeff McQuilken Oomph Music Blog http://artistdevelopmentblog.com/advice/understanding-image-branding-musical-artist/