Last week week I watched Ann and Nancy Wilson perform an intimate and revealing concert for their hometown fans in Benroya's S. Mark Taper concert hall, home of the Seattle Symphony. Although the show was booked a year ago for the Live at Benaroya Hall popular music series, it was made much more significant because of this week's induction of Heart into the 2013 Rock and Roll Hall of Fame on April 18. Ann and Nancy are rock and roll royalty, and this concert proved just how well-deserved their fame is.
It was a sell out crowd, with Microsoft co-founder and guitarist Paul Allen in attendance, Sue Ennis (their longtime co-writer), and many, many others who have followed Heart and the Wilson sisters for decades. Stevie and I sat in the third row orchestra surrounded by adoring (and greying) fans, friends and family. The crowd was very interactive – shouting out comments and requesting songs. The familiarity and love of the audience for the two women was palpable, and they seemed equally relaxed and at home.
Before the backup band came on, Ann and Nancy were interviewed by their biographer, author and journalist Charles R. Cross. His collaborative book on the sisters called Kicking and Dreaming: A Story of Heart, Soul and Rock and Roll was released in the fall of 2012. Although some might have called the interview portion of the concert superfluous (perhaps  preferring just a standalone musical performance), I greatly enjoyed this informative window into the personal and musical history of Ann and Nancy Wilson.
The two women talked about how their mother sewed them matching Sargeant Pepper blue costumes (with jacket and trousers) for their first Beatles concert in Seattle. They described how their father, a Marine and a beloved local high school language arts teacher, encouraged them to write, be creative, and dream big. Even though he was from a family with a long military history, Ann said their father was nonetheless a bit of a rebel, who encouraged both his students and his children to write and express their individuality. Nancy talked about how scary it was for her when there was talk of drafting women, because the military culture was strong in their family going back generations. If there had been a female draft, there likely would not have been a band called Heart.
Yet it became music, not the military, which captivated and defined these two young teens. As Ann said, when she was in Junior High, your identity as a young girl was defined by which Beatle you claimed to want to marry. But Ann and Nancy didn't want to marry any of the Beatles – they wanted to be the Beatles. I can't help but think how fortunate they were to have had parents – two parents – who supported their dreams. In that era, these ideas would have been considered very unconventional for young girls, and certainly would have been threatening for many parents. Ann and Nancy talked about being captivated and energized listening to Bob Dylan and other songwriters of their time, although, as Nancy pointed out, some of the protest lyrics were a bit incongruous when sung by two white suburban teen-aged girls from Bellevue. The sisters even performed a Simon and Garfunkle song during the evening, as well as several other very old originals and covers that spoke to their musical roots.
It was enlightening to hear Ann talk about how when she first started singing rock covers in bars with Heart, it became clear to her that lyrics like The Who's "See Me" took on a completely new meaning when sung by a beautiful young woman than when sung by Roger Daltry. She stopped singing the song. We forget how far women have come in rock and roll, and it is in no small part due to these two women. Even in their sixties, they retain an air of bemused naivete and almost dismissal of the whole issue of sexism, although they clearly encountered it regularly. They just wanted to write and sing rock and roll, when everyone around them saw them as little more than sexual objects.
Unfortunately, the audience was reminded of the very contemporary nature of this problem by a vocal male concertgoer in the upper left balcony who kept shouting out unintelligible expressions of enthusiasm during Cross' interview, prompting Cross at several points to roll his eyes and crack jokes about him. Ann and Nancy seemed unphazed  – after all, they've been dealing with this sort of thing for decades. They just wanted to get on with the business of rock and roll: writing great music, and delivering technically impressive  and emotionally electric performances. As always.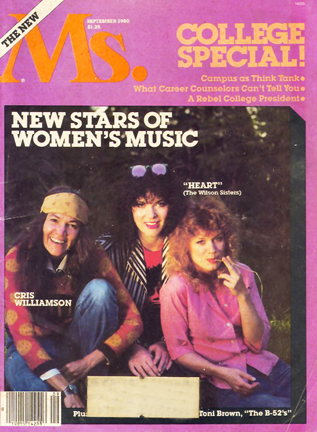 Ann gave a surprising nod  to Ms. Magazine for featuring the the women on its first cover, giving it credit for bumping them into the spotlight in way they hadn't been before. Again I was reminded how much things have changed for women in music, in many ways, as pictures of female musicians ranging from the demure (Taylor Swift) to the more aggressive and overtly sexual (Beyonce, Niki Minaj and Rhianna) dominate the covers of magazines today. After Cross' nostalgic interview, it was on to the heart (no pun intended) of the evening – the musical performance.
Ann and Nancy's backup band for the evening was perfect (from my perspective) for the two women's acoustic guitar and vocals – tight, musical, and, most importantly, not flashy at all. Local Seattle drummer Ben Smith played a custom kit with a tiny kick drum, egg shakers, snare, cymbals and toms – all with the lightest touch. Guitarist Craig Bartok was the polar opposite of Roger Fisher – tasteful and precise, but never overshadowing the vocals of Ann or acoustic guitar of Nancy. Dan Rothchild was impeccably in synch with Smith on bass guitar. The most flamboyant (and that wasn't saying she was, truly) was Debbie Shair, who played harmonium, electric keyboard, accordian, and even the house concert pipe organ (see below description.) The band, who also all contributed backup vocals at times, melted seamlessly into each song, surfacing during bridges with some nice solo flourishes, but generally staying unobtrusive, creating a supportive and warm tapestry of sound behind the two women.
I'm an unabashed Ann Wilson fan. I am, after all, a vocalist, and she is, in my opinion, the finest female rock and roll vocalist of my lifetime, but I was surprised by a few things at this concert. I had never seen the sisters in concert before, so this may not be news to those who have, but even though Nancy is the younger sister, and she comes across as a bit spacey, she is clearly the band leader. Ann is the lead vocalist, but it seemed like the band cued off Nancy.
Nancy Wilson is also a really fine lead guitar player; both acoustic and, on one song, electric. Nancy clearly loves performing, she can be flashy, energetic, and rock it flat out with the best. She took up her acoustic guitar several times during the Cross interview and spontaneously played and sang some of the women's oldest compositions. They are a tea, but Nancy seems the creative driver in the duo: the dreamer, the driver, the fire. Nancy's explanation of the origin and meaning of one of their most beautiful and musical songs, Mistral Wind, was poetic and riveting, and while she is not quite the vocal powerhouse Ann is, she sang lead very well on a few songs. I get the feeling, when Ann's not around, that she can probably really belt it out. As a vocal duo, they are seamlessly matched.
Also fascinating to me was Ann's story of how the song "All I Wanna Do Is Make Love To You" was sort of forced on them by their label at a time when they were experiencing a slump in popularity and needed a commercial hit. Ann has a dryer and sharper sense of humor than Nancy, who is much more of a flower child. Ann, on the other hand, was quite funny when explaining how, once she listened to the lyrics, she was kind of grossed out by them, and now it's her least favorite song to sing. Yet it's often the one most requested during their Lovemonger performances. In a stroke of irony, immediately after the performance, it was the first song that came on over the PA as we were exiting.
The highlight of the evening for me was when the Wilsons performed an old song of their's called "Rock Deep Vancouver" with Nancy on acoustic guitar and Ann on lead vocals. Ann prefaced the song with an explanation of how she wrote the song on a trip from Seattle to Vancouver to meet up with Michael Fisher, with whom she was in love at the time. While this song was never a big commercial hit, for me it epitomizes the soul of the Heart sisters' emotional and evocative songwriting. They lyrics and music paint vivid pictures of both of the physical and internal landscape of the author: "Oh my soul was glowing, and I knew where I was going."
Before they began the song, keyboardist Debbie Shair climbed up behind the band to sit at the Benroya the pipe organ. When, halfway through the song, Shair played the first few bass notes – spare, but powerful – the song swelled and grew like church music. Nancy sang the echoing backup vocal, the organ added a deep bass underlying power with full chords, and Ann echoed the refrain with her characteristic passion. For me, this was pop music at its finest. It gave me shivers, and brought home to me the power of that creative drive, the passion and agony of love which drives so many great rock songs.
Notable throughout the evening was the total absence of mention of the Fisher brothers, Michael and Roger, who played such a pivotal role, along with bassist Steve Fossen and drummer Michael Derosier, in the early years of Heart, with collaboratively written songs that brought the Wilson sisters into the spotlight. Not that it mattered too much, because clearly these are two women who can hold their own. Yet it has been a bit sad to see that even after all these years, a reunion performance this week may be unlikely (the Wilson sisters have repeatedly said "no way"), although you never know. Fossen gave hints it was a possibility when we ran into him in person a few weeks back, but Roger has had to backpedal after his initial Facebook statements started the rumor of a reunion performance in LA.
It remains a fact that Ann and Nancy Wilson are rock legends. They are, without question, women to be admired for their talent, creativity, and their perseverance in the face of changing lineups, commercial ups and downs, tumultuous personal lives, and the vagaries of the rock star lifestyle. After all, "That Metal Show" voted Ann Wilson one of the top 3 metal vocalists of all time (men included), and has even had them on the show.
Nancy said that being inducted into the Rock and Roll Hall of Fame has been sweet for them, but sweeter in some ways for their fans. So many of  Heart fans have wanted this award for them for so many years, and have felt frustrated and cheated by the delay. No more. Their fans in Seattle and around the world remain faithful and many, and they will always revere Ann and Nancy Wilson as pioneers in Rock and Roll: two women who made their own way, and who earned their place in history.
Note: For a full list of the songs played during the concert, see Gene Stout's excellent summary in the Seattle Times.