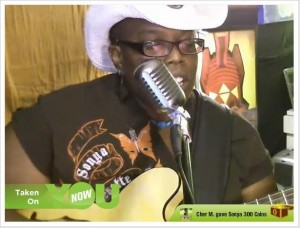 This is the second post in a series exploring the various options for musicians to stream live performances online, including StageIt, Ustream, LiveStream, Google+ Hangouts On Air, Skype, YouNow, Broadcast for Friends for Facebook, and Second Life Music. I covered StageIt in a prior blog post, StageIt 101: Creating An Intimate Experience, where I featured Vancouver vocalist and songwriter, Jody Quine. My goal is to not only give you the basic service overview, but also let you hear from an indie musician who actually uses the service regularly. For this post, I interview Texas singer-songwriter Sonya Jevette.

YouNow is a website that acts a bit like a collection of open mic lounges where performers queue up to perform online. There are no pre-set show times like with StageIt, YouNow is more like a public stage, where viewers watch and interact with a stream (no pun intended) of performers as they broadcast fairly short (generally 10 minutes or less) sets from their living rooms or bedrooms. Some performers perform repeatedly over the day, or queue up to re-broadcast their prior recorded shows.
There are a multitude of not-very-descriptively titled YouNow channels (Music, Musician,  Musican+, Shows, etc.) available to the viewer on the main page. Performers, or "Broadcasters", are given additional time as their online audience votes them up or down in real time. You log in using your Facebook credentials as both audience or artist. Social media is seamlessly integrated into the site, as the artist's social media buttons (Facebook, Twitter and YouTube) are prominently displayed below the video window, and their "social reach" numbers are also displayed right before they go on).
YouNow has a fairly busy UI (user interface), so it can seem a bit distracting. It's a an advertising-based revenue model, as it doesn't cost anything to watch. Performers receive "coins" and "drinks"  and earn prizes as audience members become "fans" and vote them up or down (called the "Vote Bar"). Like most streaming performance services, there is an all-important chat window displayed right next to the performer video window, and interaction with fans is a critical part of the performance. Performers watch the chat window and respond in real time, and they can also pre-load comments to appear while performing (as their hands are likely full).
I met Sonya Jevette through GoGirls Elite, a co-marketing and support group for female musicians started by Madalyn Sklar, and she's been performing for over a year on YouNow. (There will be a GoGirls YouNow Invasion this Sunday evening, January 20, 2013, 5-8 PM CST, 3-6 PM PST. More info on that at the end of this post).
SW: Sonya, tell us a little about yourself. What kind of music do you do?
SJ: PSYCHEDELIC SOUL MUSIC
SW: How long have you been performing as a musician and what is your current band situation?
SJ: I HAVE BEEN PERFORMING FOR OVER 15 YEARS, I AM CURRENTLY A SOLO ARTIST.
SW: If you had to describe YouNow in one sentence, say to your grandmother, what would you say it is?
SJ: I WOULD SAY YOUNOW IS LIVE TV ON THE INTERNET, A PLACE WHERE ANYONE HAS A CHANCE TO BE SUCCESSFUL.
SW: What attracted you to YouNow in the first place?
SJ: 24 HOUR LIVE INTERACTIVE AUDIENCE TO BROADCAST TO.
SW: Did you try other services? YES If so, how did they compare? How does YouNow work that is different from StageIt or UStream?
SJ: STAGEIT MAKES THE AUDIENCE PAY TO WATCH. USTREAM DOESN'T HAVE ENOUGH OF AN INTERACTIVE AUDIENCE NOR CAN I GO FROM CHANNEL TO CHANNEL AND BROADCAST.
SW:  What do you do to prepare technically for a YouNow show on your end?
SJ:  WHEN ONE BROADCASTS, THERE IS A LINK AT THE TOP OF THE PAGE THAT SAYS  BROADCAST LIVE. THIS LINK TAKES YOU TO A TESTING AREA WHERE YOU CAN TEST YOUR SOUND WEBCAM AND INTERNET. MOST PEOPLE BROADCAST THRU THEIR LAPTOPS. I HAVE A LIVE PA SET UP I RUN MY VOCALS AND MY GUITAR AND PEDLEBOARD INTO A BEHERINGER 4 CHANNEL POWERED MIXER RCA INTO THE DESKTOP USING A LOGITECH HD WEBCAM.
SW: Do you have a regular timeslot for your show?
SJ: AT THIS TIME I DO NOT HAVE A REGULAR TIMESLOT. I COULD IF I PAY TO HAVE ONE OR IF I HAVE ENOUGH FANS TO KEEP ME ON DURING BROADCAST.
SW: How do you integrate YouNow with your social media presence and your fanbase?
SJ: YOUNOW PROVIDES LINKS TO THE ARTIST SOCIAL MEDIA FB TWITTER YOUTUBE AND YOUNOW ONE JUST NEEDS TO FILL IN THE INFO.  How do you promote your shows? ONE CAN CHOOSE TO LET THE FANS KNOW WHEN AND WHERE ONE IS BROADCASTING BY SELECTING THE CHECK BOX.
SW: Can you archive your YouNow shows and link to them later?
SJ: YES
SW: What is your favorite feature of YouNow?
SJ: THE LIVE INTERACTIVE AUDIENCE.
SW: Are there are any tips and tricks you'd like to pass along to musicians who might be new to YouNow, perhaps something that was not obvious to you when you first started using the service?
SJ: GROW THICK SKIN HATERS WILL HATE ON YOU FOR NO REASON JUST BECAUSE THEY CAN. THIS SITE IS TO BUILD YOUR FAN BASE. THE FANS YOU ALREADY HAVE WILL ENJOY IT ALSO BUT YOUNOW IS ABOUT ACQUIRING NEW FANS.
SW: Is there any feature you would like to see on YouNow that's missing?
SJ: I WOULD LIKE THERE TO BE A SOUND LEVEL SCREEN WHEN BROADCASTING LIVE IN ORDER TO SEE MY SOUND LEVELS. YOUNOW IS WORKING ON IT.
SW: Do you think YouNow is better for certain types of musicians, bands or performance styles? Or certain demographics of fans?
SJ: I THINK YOUNOW IS BETTER THEN ALL THE REST AT THE MOMENT. NOTHING ELSE LIKE IT OUT THERE FOR ME.
SW: Do you make money from your YouNow performances?
SJ: I HAVE WON PRIZE MONEY AND T-SHIRTS, HATS AND HOODIES FROM YOUNOW.  AND PEOPLE HAVE BOUGHT MY CD'S
SW: How?
SJ: ONE CAN PUT A LINK UP TO THERE TO A PAYPAL ACCOUNT OR LINKS TO THEIR CDS TO BUY ON LINE.
SW: Is there anything else you think is important for musicians to know about  YouNow?
SJ: THERE ARE CURRENTLY 56 DIFFERENT CHANNELS ONE CAN BROADCAST ON FROM COOKING TO GAMING MUSIC TO SINGING TO SHOWS TO YOUTUBERS, JUST HAVE FUN YOUR ATTITUDE MAKES ALL THE DIFFRENCE IN THE WORLD.
SW: Thanks so much, Sonya! If we want to listen to or buy your music, watch your videos, or attend your YouNow shows, can you give us some links to find you online easily?
iTunes CDs: Everything Begins With One * This Time
Sonya's website: http://www.sonyajevette.com
Twitter: http://www.twitter.com/sonyajevette
Facebook: http://www.facebook.com/sonyajevette
SJ: THANK YOU SOLVEIG. I ALSO HAVE BEEN PERFORMING IN SECOND LIFE FOR THE LAST TWO YEARS. SONYAJEVETTE CHARISMA IS MY NAME.
SW: Great, Sonya, maybe we can chat again soon about Second Life Music, then. I'll see you Sunday evening for the GoGirls YouNow Invasion!