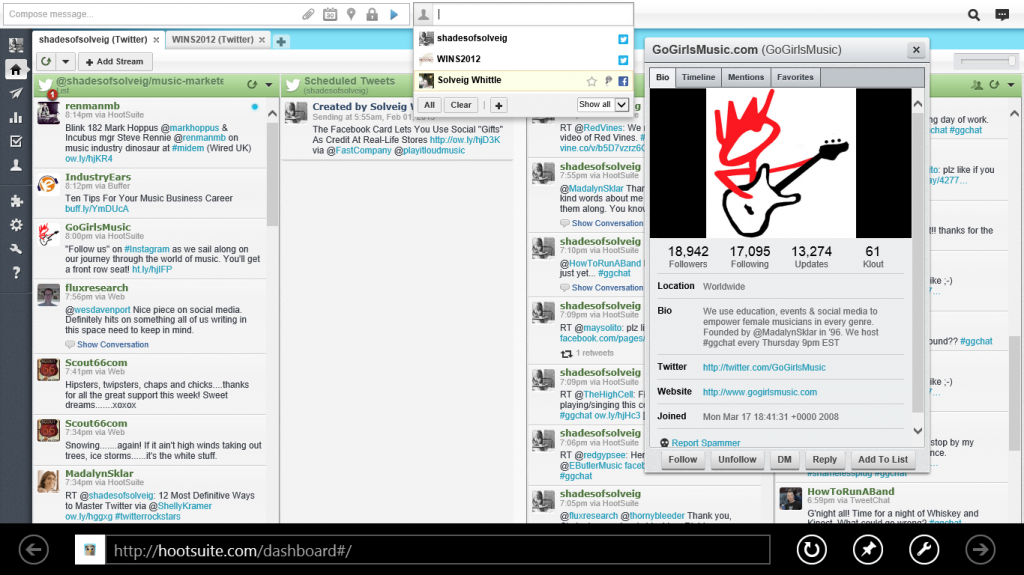 Seeing that many musicians and music marketing industry people use Twitter to discuss and promote music, I thought it might be useful to provide an overview of one of the most commonly used tools for managing social media accounts with an eye to what features musicians might find most useful.
Hootsuite is one of several free social media dashboard applications, like Buffer or Tweetdeck, that can help you manage Twitter and other social media channels, all in one place. Hootsuite interfaces with most social media platforms, like Facebook, Google+, LinkedIn, WordPress, Tumblr, Instagram and many more – although not Pinterest, as of this writing.
Note: For more information on Buffer, see this blog post by my friend Chris "Seth" Jackson, at HowToRunABand, Twitter for Musicians, Day 13: Extreme Power Tools to Become a Twitter Ninja. For a Hootsuite vs. Tweetdeck throwdown, see this article by Make It In Music, Top Twitter Tips For Musicians.
I find Hootsuite to be most helpful for me in managing Twitter, and less so for managing my Facebook or LinkedIn posts. For those bands with a public Facebook fan page to track and analyze, it would probably be much more useful. I also haven't hooked my Instagram or website Google Analytics up to Hootsuite yet, but I'm planning to. It'll be nice to see them all in one place.