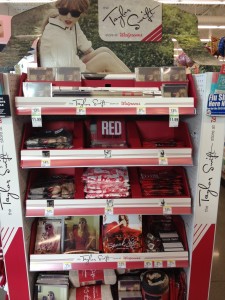 **If you like this post, you may also enjoy my follow-up post 5 Things Indie Musicians Can Learn From Taylor Swift's 1989 Release**
Album sales may be plummeting in the music industry overall, but Taylor Swift's latest album hit the number one position on iTunes' Top Album charts within 36 minutes of its release last month and remained there for the past three weeks. First week sales were 1.21 million copies, according to Nielsen Soundscan – the biggest first-week figure for a new album in more than a decade. None of this was an accident – it was the result of a carefully orchestrated and deeply creative yet disciplined launch. What lessons can indie musicians take away from the way the upstart Big Machine Label Group marketed Taylor Swift's "Red"? Sure, Swift's label probably spent millions of dollars of marketing budget and had relationships with huge retail chains, but there are some lessons for smaller music marketing budgets.
First, let's consider what the marketing goals of this campaign likely were – probably to reach new demographics in order to expand Swift's fan base. Indie bands face a similar dilemma: how can they reach listeners unfamiliar with their music? A new CD is the perfect excuse to expand your fan base. The challenge is to get beyond the inner circle of friends and family, beyond the rabid fans who always come to every Wednesday night coffeehouse performance, beyond those who are already on the mailing list, and have already liked the Facebook fan page.
Here are a few key things about the Red marketing campaign that stood out to me, and how they could be applied to a smaller scale indie musician CD launch campaign:
Stay Visible. Swift's personal life kept her in the spotlight all summer.  Something people seem to have glossed over is that Swift was all over the tabloid magazines this summer as her Kennedy family obsession became the front page story for weeks. Maybe this was deliberate on the part of her PR team, maybe not. It certainly put her in the limelight long before her album release. Since Swift is on the cover of December's Cosmopolitan magazine talking about "what she wants in relationships," somehow I am thinking this has been part of a carefully planned PR campaign from the beginning, given the lead time for print magazine stories. I'm not suggesting indie bands try and create personal scandals before launching albums, but it's easier to market an album if you have not been completely absent from your fan base for months beforehand. It's a lot of work to release an album, and we tend to hole up and focus (go dark). It's better to get out and play a few gigs occasionally and mention that a new album is coming than to try and release an album when your fans have forgotten you even existed. (You can even also "preview" your new material and fine tune it.)
Simple Album Name, Consistent Visual Branding, Good Story. Red is a great album name, and Swift had a story to tell about "all the different emotions… that I've experienced in the last two years… all those emotions are red." This is KISS (Keep It Simple Stupid) branding – simple, compelling, coherent visuals across all elements, strongly emotional. A memorable story lends itself to compelling and memorable marketing, more easily executed.
Good Early Product Reviews. Red already had good reviews out before the album hit. Do your homework to get your album reviews before release. Send pre-release CDs to local music websites and media well in advance. Ask top fans to write a paragraph about the CD in advance. Order some paid reviews (several weeks in advance) at ReviewYou.com to give you an idea of what you can expect and provide pull-quotes for publicizing your album if unpaid reviews fall through. Lipstick won't sell a pig, even if it's Red, so make sure your album has some fans and critics who like it before spending money promoting it. It can be hard to describe your own work for your promotional materials, reviews are a great way to help you do that.
Have A Written Product Launch Plan. Swift's multi-faceted launch was professionally planned well in advance. All the elements were designed to come together for maximum impact. A television interview blitz via "Good Morning America", pre-taped "Ellen" and "20/20" interviews and multiple radio station appearances supported the release. While indie artists can't afford a media blitz like Swift's, the takeaway is that whatever your marketing efforts are, make sure they are timed to provide maximum impact. In other words, plan a story in your local hometown newspaper, email your fan base, and time your CD release party in a coordinated fashion.  Have a timeline planned out and written down. Work backward from your release party event. Let me repeat that – have a timeline written down.
Single Pre-Release. The single, "We Are Never Ever Getting Back Together" was released August 14, 2012 via a live web chat and Google+ Hangout between Taylor and her fans, where she also announced the new album would to come in October. This gave her a two month lead time to promote the album and build excitement. There's no reason indie artists can't do exactly the same thing. Also, the new single was chosen for a reason – it's much more a pop song than a country song (hence the wider demographic appeal). Scott Borchetta, Big Machine Label Group's CEO (the guy who discovered and signed Swift and is the marketing genius behind Red), has said that he brought in Max Martin and Shelback to create a more pop-driven sound for Taylor. The message? If you want to broaden your demographic, partner with someone who knows how make music that will appeal outside your existing genre. Swift also "leaked" some songs ahead of time to help create a buzz.
Different Customized Merchandise Packages and Co-Branding. Swift had a Walmart-only e-zine and guitar picks, a Papa John's pizza and CD package, Keds sneakers, and an entire end cap of merchandise exclusive to Walgreens (see picture). Of course this type of merchandizing isn't practical for indie artists, but the idea is to consider where you are trying to expand your fan base. Younger listeners? Older listeners? Women? Wine enthusiasts? Cookie-lovers? Heavy metal enthusiasts? Folkies? Try to create at least one new merchandise package, preferably with a local business, that would appeal to that demographic. I've heard anecdotal stories of musician success working with yoga studios and gyms, non-profits, or local restaurants to create a unique and tasteful CD merchandise package. Local is better (and easier to pull off), and having a charitable cause can also work well, although I caution that cause marketing has been over-used lately with musicians, so it has to be relevant and personal.
"Windowed" Release. Red was distributed exclusively first on iTunes and retail outlets Walgreens, Walmart, and Target. The label deliberately delayed the release of Red to Amazon, Spotify, and other streaming outlets. The idea here is to focus CD purchases initially on the channel that yields the highest visibility and margin, and drives visibility and PR buzz. Try to create a sense of exclusivity, limited availability, special one-time packages. For most indie musicians, that means just time your digital release to come after your CD release party, where you should be able to sell your CDs and merchandise at a premium. At my last CD release party, I made two thumb drives with all our music, videos, and lyric sheets exclusively available, and I sold one of them for $50. It cost me $14 to buy and create them.
Savvy Use of Social Media. Swift has 20 million Twitter followers, and she wasn't shy about asking them repeatedly via social media to call in and request her song on the radio the week of its release. The takeaway lesson here for indie musicians is to make social media a strong part of your release and PR plan. It's the cheapest and most effective form of marketing communication there is. For most bands, this just means don't forget to use Facebook, Twitter, blog, email newsletter, or website, to build excitement leading up to the release. Also, don't forget a coordinated announcement and call to action link ("RSVP for our CD release party" or "buy our CD now").
Are you planning your own CD release? I recommend checking out this Album Release Countdown from Chris Robley at CD Baby. It has a detailed blueprint to follow to make sure your next release is planned well in advance, and all your ts are crossed and is dotted. If you have other ideas about how to creatively market your music and expand your fan base, please share them below in the comments.