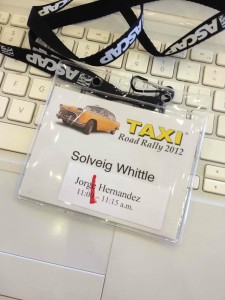 For those of you not familiar with TAXI, it's a 17-year-old company that helps unsigned songwriters and composers submit their music for a variety of opportunities in film, TV, movies, and with labels. This is very helpful for aspiring artists like me who do not have deals with publishing houses or music supervisors. It's also a great way for music supervisors to license new music cheaply from unknown artists. I'm just too old to be a rock star, frankly, but I'd love to create a revenue stream from my music via TAXI.
Membership in TAXI costs $300 a year (discounted if you bring others to the service), and there are small per-song submission fees as well. The Road Rally is TAXI's annual member conference. Michael Laskow, who runs TAXI, said that they have about 10,000 members, and that 2700 of them registered for the conference this year. I have heard others say that the Road Rally conference is one of the best things about being a TAXI member, and I tend to agree. Although free to attend (members can bring one free guest, also), it's certainly not free when you count travel expenses and your time. There are so many music conferences these days, it's important to budget for them and to ask yourself if they are really worth attending. We spent a about $1100 per person in real money, as well as the time away from our clients and our own music creation. I always come home with some new information and insights from the TAXI Road Rally, though. Sitting in LAX thinking about the last three days I spent at the Rally, I thought I'd share why I feel it was well worth both my time and money.
There's something for everyone in the breakout sessions, from business to technical music production, and there are a lot of breakout sessions (maybe 30 a day?). Stevie, who is a producer, and I, who am a songwriter and vocalist, split up and covered a variety of sessions and then debriefed each other at the end of day.
Part of our song got played and critiqued in one of the ballroom listening sessions in front of a panel of industry folks and a thousand or so other musicians, which was both fun and helpful. Stevie went to two of these panels just to listen, and said he learned a lot about how to make our music submissions better from listening to all the songs played and the critiques. There were artists whose songs were snapped up by the music sups at many of these panels, and some artists reportedly had music license deals made right at the conference.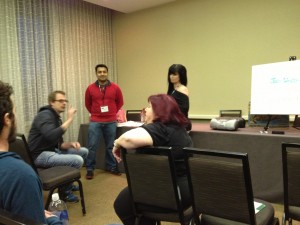 One of the people interviewed by Michael Laskow at a ballroom session was Tim Myers, a young but very successful writer for TV and movies, formerly of One Republic. Tim is very Zen. Something he said really stuck with me: you can chase the listings and compose to them, or you can just write songs you can be proud of. Certainly these are two different paths to success.
The 1:1 free mentoring sessions are well worth waiting in line to sign up for. We had one 15 minute personalized listening and mentoring session with Jorge Hernadez of the Organica Music Group label on Friday, and he gave us some really great advice.
Meeting up with and making new friends and business contacts is a big part of TAXI. We met up with vocal coach Jan Linder-Koda, who helped direct me a few months ago at our music video shoot here in Seattle. I made some new friends as well, like Lauren Danzy, Marketing Manager at Sound Exchange,  Kevin Breuner, Director of Marketing for CD Baby, MollyK, CD Baby's tireless tweeter, and Dave Cool, Director of Artist Relations at Bandzoogle.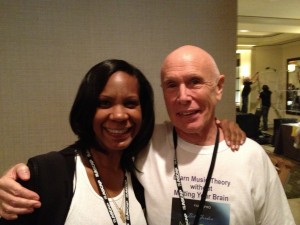 On-the-spot music composing, performing and collaboration opportunities abound at TAXI. There are breakout rooms set aside for this, but it seems most of the jamming happens in the bar, the hallways, and at the music vendor booths. People stay up late to jam fueled by the free Rockstar energy drinks. I felt a little sorry for the airplane pilots who were on layovers at the hotel.
Music biz sessions were what I came for, and they did not disappoint. I went to two, one with Debra Russell of Artists Edge and one with Bobby Borg. Finding your niche and defining your goals are incredibly important things to do before you go ahead and spent lots of money on recording, merchandise, or website development.
The three open mic nights are a lot of fun – although the signup line is a pain and you play only one song. It was truly fun, and we had some very positive feedback, which is always nice. It's also wonderful to hear unexpected talent, like young Annelisa Franklin, the cutest little songwriter at TAXI and half of the clearly talented Franklin Girls. I was also impressed with instrumentalist Al Sanchez, who did an inspirationally creative crazy digital delay acoustic guitar number.
Most creative attention-getting social media tactic award goes to The Fallen Stars for tweeting that they were giving away free cookies and CDs in the hotel lobby. More creative Twitter marketing kudos go to The Sons The Band for having a QR code for their avatar that is a link to a free download.
Some minor suggestions for improvement:
I think there is a demand for more information on basic musician website options  – not just a Bandzoogle presentation, but info on why and how to get your own domain name, templated site options vs. self-hosted WordPress – as well as perhaps a more advanced website session on WordPress and its plug-ins specifically for musicians. Many musicians there either had no website or had old websites they had paid for done in Dreamweaver or on other platforms.
Attendees need way more information on social media – the whys and hows of Facebook fan pages, blogging, Twitter, Pinterest (which wasn't even mentioned by any of the presenters as far as I could tell), more on YouTube (Kevin did a great session, I just think there is a lot to YouTube), Google+ Hangouts, streaming performance sites like StageIt and Ustream. The all-important crowd-funding issue was not covered at all (Kickstarter, IndieGogo, Pledgemusic, etc.).
I'd add a session for songwriters and home recording artists just on the basics of copyrighting, self-publishing, PROs (Performing Rights Organizations) like BMI, ASCAP and SESAC, metadata, ISRC codes, the Gracenote database, etc. Several speakers covered bits and pieces of it (notably Steven Corn of BFM Digital), but there's so much to talk through.
It would be great to designate classes as 100 level or 200 level. Of course instructors may not want to do it, but it would help attendees to know where to focus, as attendees vary a lot in their expertise (both technical and business), and I found presenters often ended up spewing information to cover everyone in the room, from the novice to the expert.
These are very minor critiques, overall, however. I enjoyed the Road Rally very much, and plan to attend next year. If you attended, I'd love to hear your comments below, and if you didn't, check out the Twitter hashtag #TAXIRally to get a sense of other perspectives on the conference.