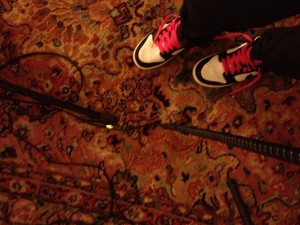 For me, music is the richest form of self-expression. I find one of the most fulfilling things about being a musician is working with other musicians. I love making things with other people: I love working on school projects, working in teams in the world of business – actually I really love serving on juries. Yes, I love jury duty. I enjoy the process of creative collaboration. Making art with others is thrilling, and emotionally and technically challenging. It requires focus, passion, discipline, vulnerability – and clear communication of goals, expectations, roles and boundaries. Sometimes the excitement of creative collaborative can overshadow attention to the business details like defining process, expectations and roles. That is the stuff of hard feelings that can last a lifetime between musicians.
I've discovered that my collaborators need not be limited to musicians who are physically local. Stevie and I embarked recently on two separate collaborative music projects with other artist/producers who are located in LA and England. We just finished a hip hop piece with my stepson, Danny James, a successful musician and producer in LA. Danny took our original song, wrote and recorded three totally new verses sung by another (hip hop) vocalist he has worked with in LA, and then sent us back the project electronically (more on the logistics below). Stevie made a few musical and production changes, and a new song was born (you can watch the lyrics video here, the audio is available for free download on Soundcloud). To have been able to collaborate on a song with a family member who I both love and respect has meant so much to me, I was willing to wait the 6 months it took to complete!
This past weekend Stevie and I embarked on another collaboration with a different artist/producer, Kevin Jones, from East River Studios in London. Kevin came across my Soundcloud account, and left some lovely comments on several of our songs. I checked his music out and was likewise impressed with his most recent solo CD, Cold. Miraculously, within 24 hours, an email from Kevin appeared in my inbox via Soundcloud messaging, asking if I might be interested in putting some backing vocals on a new song he was working on. We exchanged emails, and we were off and running.
We're now deep into the middle of this project. I just put some vocal tracks down last night. I thought it would be appropriate to write about some of the things I've learned so far, both technical and non-technical, in the process:
Social media is a great discovery tool. You can check out another artist's music via their the Facebook page, ReverbNation, CDBaby, website or Soundcloud account listed in their social media profile. You can easily use social media to make initial contact and put out feelers about collaboration.
Once interest is confirmed, email is the best tool I've found for communicating your goals at the beginning of a project. Make sure you are clear about song authorship, who is going to register the song with BMI, ASCAP or SESAC, and what your role is. Are you simply performing (or asking for) backup vocals or a guitar solo – or are you co-writing lyrics and/or music? Who is the primary driver/producer of the project? It helps to be clear about expectations up front. Creating music is an emotional process, not just an intellectual process. Egos are involved. People feel proprietary about their creations – as they should. Be straightforward with your goals for your collaborative project, and try and communicate them as early as possible, before anyone has invested time or emotion. It might seem crass, but it helps to be clear whether any compensation is being offered or asked.
In addition to the .wav project files, send at least a roughly mixed MP3 of the song at the outset, so the other person or team can hear the fully constructed vision for the song using just iTunes or Windows Media Player (or as much as you have so far). This is helpful to me for practicing vocal parts in the car or via my iPhone using my headphones while I am mobile. That way I can listen to the song and work on my parts and am not tied to the studio.
It's helpful to work with the same music production system – for us that is ProTools, so you can upload and share .wav project files using a file sharing service. Stems are the project files which you load into ProTools, and the basic medium of collaboration. There is generally one .wav file for each track (guitar, vocals, drums, etc.) Wav format stem files are the highest sound quality, and necessary if you are working in ProTools. They are large. You can't just email them back and forth. I suggest using a filesharing service like YouSendIt or Dropbox. If you are a musician relying on someone else on your end for production, make sure your engineer or producer understands the other artist's technical setup. We use Dropbox to send the .wav stem files back and forth. Soundcloud is also now integrated with Dropbox, and that is a big help. It can take a bit of time to get the hang of sharing folders and files in Dropbox, and a reliable and fast internet connection is important. It can be frustrating to wait for the files to upload, and sometimes the Dropbox interface can be confusing. Don't be discouraged up front, once you get this part working, it's easy to share the project files back and forth. A backup system might be mailing a thumb drive or CD with the .wav files on it, if you cannot get a file sharing system to work.
Email lyrics and a lead sheet (if you are collaborating on instrumental parts). For a vocalist, a lyric sheet (generally just a Word file) is a must-have.
You can also use Skype, Google Hangouts or the phone to have a chat with the other person, although I have yet to use this tool for song collaboration. There is something almost magical about just hearing what the other person has given you in the music. Perhaps I am superstitious about shattering the magic through an overly analytical phone conversation. I have not found it practical to collaborate and write a song live online, but that's just not my style. I prefer the asynchronous back and forth of file sharing, even when writing with a local collaborator. Whatever your style, the online tools are available to facilitate your own communication style. It might work great for you to write a song live online if that's what you are used to doing in person.
Document what you are doing and send pictures or video to your collaborator. It creates an additional level of connection. I'm also blogging about the experience so I can share it.
These are all the technical pointers, but there are also some important psychological and emotional issues as well. Making music is deeply personal, and, as anyone who has co-written a song or performed in a band knows, musical collaboration is fraught with emotional landmines. Here are my observations and advice for navigating some of the inevitable "softer" issues that can arise:
Be gentle. Writing music is a very personal creative act. Remember that (good) music and lyrics express people's innermost feelings, and keep this in mind when critiquing another person's work. Try to leave their contributions intact as much as possible and simply build on them – don't edit another person's work extensively if you can help it, at a least not in the beginning before you get to know someone.
Read and understand the lyrics so you can feel the emotion of the piece. You must be able to relate emotionally to the other person's work. If you don't feel it, don't work on it with them. You won't be adding anything of value if you don't relate and can't express emotion in your contribution. Just say: "I'm not feeling it." Even if you have already agreed to work on a song, or are in the middle of it, don't be afraid to tell the other person if you are having difficulty with it. You cannot know for sure how you will feel about a song until you are into it. Depending on whether there is a deadline, you may be able to set it aside and come back to it, but don't force it if it's not speaking to you. If it works, it will flow quickly, and you will be motivated to work on it, day and night. Of course, this is all true if there is no money being exchanged. If there is money involved, it's a different situation, and it's really a job, not a collaboration.
Be aware that letting others into your collaborative circle will affect existing creative partnerships. If you are truly giving of yourself technically, emotionally and with your time, your existing musical projects and relationships will need to make space to accommodate your new project. Making music with someone should not be a trivial experience. It should move you, stretch you, make you feel emotions and push you around a little – otherwise why do it? For example, you might end up taking time away from your regular musical partners (your band practices or studio time) to work on a new collaboration. This can cause friction. The key is to stay in communication with both existing and new partners. Making music with someone requires a relationship – even if it's long distance. Make sure your existing relationship is strong enough not to be threatened, and that you don't exclude it from your other collaborations. Don't silo. Bring things you learn from one project into the other. Make it a positive experience for everyone, not just yourself. Share what makes you excited and what you have learned with others.
Collaboration is the new black. Popular musicians are finding it a highly successful route, in genres as diverse as hip hop to pop or classical. I hope this post has been helpful to you whether you are already collaborating with other musicians or just thinking about it, I'd love to hear what your own experiences are!