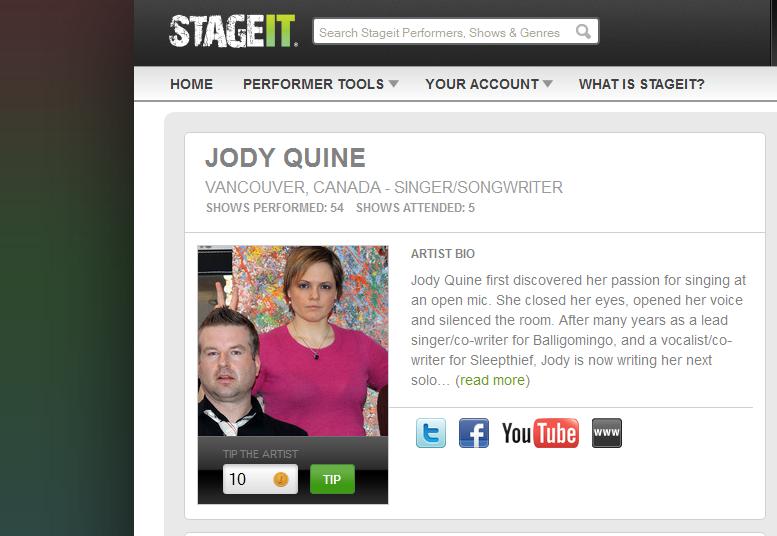 It's hard to tour – expensive, time consuming, and pretty much out of the question if you have kids or a full time job outside the music industry. But what's an indie musician to do – you have to get out and promote your music, right?
I liken it to live internet porn for musicians, albeit generally G-rated and a much better value for the audience. Streaming your live music shows over the internet is one of the hottest ways musicians can boost their visibility, grow their fan base, and make a few dollars in the process, all from the relative comfort of their own living rooms. And neither they nor their fans have to pay a babysitter either. I've met quite a few musicians now who are putting on regular live performances via a streaming music service. There are several different platforms out there including StageIt, Ustream, LiveStream, Google+ Hangouts On Air, Skype, YouNow, Broadcast for Friends for Facebook, and Second Life Music. What are the relative advantages and disadvantages of each? I couldn't find any articles that compared all the services, so I decided to try researching them myself and sharing what I've learned. In this article I'm going to cover the basics of StageIt.
My partner and I experimented last spring a bit with StageIt. We streamed two of our house concerts using it, and I found it quite fun. You start out by joining as a StageIt audience member, which is free. You can join by using your Facebook page, or by entering a StageIt name, email address and password. One advantage of StageIt is it's dead simple to join. Once you are signed up as a member, you can sign up as a performer, which is a one-click action. To view a show, you purchase "notes," a StageIt currency that translates 10 Notes = $1 US. To view a show, you purchase Notes in a minimum of 50 increments ($5 US). Notes are used to pay for tickets and to tip performers during the show (more on that later).
Setting up a show as a performer is very easy as well. All you really need is a desktop computer or laptop with a microphone and camera, and a reasonably fast internet connection (dialup won't work very well). Clearly, the better the camera and mic, and the more care you take to create a distraction-free performance background, the better, but the stream is not meant to be super high quality. StageIt has several information pages on the website that walk you through creating a show, creating a sound check, and also some good marketing tips. I suggest you have someone to help you with technical issues during both during setup and the live performance, however, as it can be tricky to try and juggle it if things go wrong while you are performing.
Performers can set the price of your show at whatever they want, StageIt suggests "Pay What You Want" is a good option for your first show, and can be a good option to stick with, as appreciative fans can be quite generous if you let them, in my experience. Two of the StageIt features I like best are the same-screen chat feature and the tip feature (audience members can "tip" artists live during the show to show appreciation). Chat makes a performance interactive, and audience members can chat lyrics, comments, and song requests. According to StageIt, performers make "about 60%" of their ticket sales, but I cannot attest to that, having not done enough shows to actually have been paid by StageIt.
To get an additional point of view of StageIt, I interviewed another artist I've been following for several months on StageIt, Jody Quine. Jody is a Vancouver, BC-based singer-songwriter who does a live show on StageIt most Thursday nights, and she's great. She's had a very successful career in music, and she's also a mom, now, so I could relate to her desire to continue performing regularly for her fans from the comfort of her own living room. (My summary of the highlights of StageIt are at the end of the interview).
SW: Tell us a little about yourself, Jody. What kind of music do you do, how long have you been performing as a musician and what is your current band situation?
JQ: I am a singer/songwriter mostly known for my work in the ambient electronic pop world, but before I was discovered in that way I was a solo artist and I'm once again getting back to that part of me. I have been singing and writing for almost 20 years. I have a bass player that I rehearse with weekly.
SW: If you had to describe StageIt in one sentence, say to your grandmother, what would you say it is?

JQ: It's a new way to do shows online and monetize as a musician. "Nobody is paying for music anymore Grandma, so this is one way to support my dream."
SW: You have a regular weekly show on Thursdays on StageIt, is that right? Can you tell us a little about how that came about, how long you've been doing it, and who plays with you?
JQ: I met a bass player named Matt and shortly there after we started rehearsing my solo work together weekly. I had heard about stageit via Brian Thompson's blog I believe, and when Matt arrived late October 2011 I said, 'let's have a band meeting'. Very similar to 'we need to talk' in a relationship. He had that look on his face too, 'uh… okay'. Then I said, I think we should start doing this online and let people pay to watch. He agreed and we went LIVE 20 minutes later. It's been a fun year indeed.
SW: What do you do to prepare technically for a StageIt show on your end?
JQ: It used to be more intense for sure. I had a special mic, and lighting needed to be sorted out. But I've since discovered that the built in mic on my Mac works great. Other than lighting (and set design including the right chairs for Matt and I to sit in,) we don't need much! Of course we need the internet and a good browser!
SW: What is your favorite feature of StageIt?
JQ: The chat for sure. [SW Note: Jody does an awesome job chatting with her fans during her shows, her between-song patter is great, and she is very entertaining – not surprising, since she has a background in standup comedy!]
SW: Are there are any tips and tricks you'd like to pass along to musicians who might be new to StageIt, perhaps something that was not obvious to you when you first started using the service?
JQ: There might be other services that make more sense for you. Because my show isn't a huge money maker, Stageit keeps a pretty large percentage of money to cover their expenses.
SW: How do you promote your StageIt show?
JQ: Facebook, Twitter (@jodyquine), and Youtube. Matt and I will do little videos and post those.
SW: Is there any feature you would like to see on StageIt that's missing?
JQ: If there was a way to record what you're streaming that would be ideal. It would be smart business for them to to make the videos available for sale and to keep a percentage of that as well.
SW: Do you think StageIt is better for certain types of musicians, bands or performance styles?
JQ: I think it's great for anybody/band who can play LIVE. People can go to a concert in the comfort of their own home, that's fantastic!
SW: Do you capture/record your performances on StageIt?
JQ: I was filming them on my phone for the first few months but the files are so large that they've filled up my terabyte hard drive and I had to stop.
SW: Do you make money from your StageIt performances?
JQ: We do make a bit of money yes.
SW: Is there anything else you think is important for musicians to know about StageIt?
JQ: I know there are a lot of different options out there for live streaming your show. Do some homework, try them all out. I think you need to figure out what works best with your fan base and your needs as an artist. HAVE FUN!
In summary, some advantages I see with StageIt are: it's free to sign up and perform, setup is easy, both for performer and audience, chat and tip features really enhance the experience for both performer and audience, and the streaming server is pretty reliable. You can also link to your social media sites, and your store and website to promote yourself, your music and your merchandise.
A few things you want to be aware of are that you (or someone else in another room on another computer) needs to join StageIt and pay notes to do your sound check, there is no "record" option to preserve your performance (by design), and there is no option to have more than one live point-of-view streams and switch between them. I think it's best to do regularly scheduled performances, but if you check out StageIt, performers have a variety of strategies. I will also note that artists really need to promote their own shows by email or social media (or whatever other means). StageIt features some artists, but their calendar doesn't show all the shows that are happening, so it's hard to just browse the site on a whim. I'm not sure if they have a good mobile interface, but they do not have an iPhone app.
If you have your own feedback on StageIt, or other streaming performance services, please comment below! I'd love to hear about your experiences and what you think of this performance option.
//Post Script – I recently found a great video of a panel discussion at Social Media Week Los Angeles on live streaming for musicians moderated by Andy Sternberg, you can watch it here.//