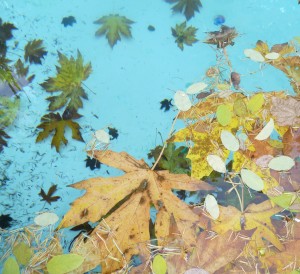 ***UPDATE: Google To Launch Music-Streaming Service (Market Watch, May 14, 2013). This could be a game-changer, as Google is a major infrastructure challenger to Apple. Also missing from my analysis below is Amazon, who could also become a major player, and does have a cloud-based music storage system today.
***UPDATE: Apple announced a streaming music service on September 7, 2012, causing Pandora's stock to fall precipitously. The impact of this service, which was also reported by the Wall Street Journal, is likely to be profound, although  EricA Ogg of GigaOM speculates on whether Apple will succeed in this space given the relative lack of visibility of iMatch.***
It's fall, the season when fruit ripens and leaves let loose and tumble to the ground. As I was walking my dog this morning, I was reminded of the stark difference between fruit and leaves. One is sweet and ripe, heavy with the burden and promise of life. The other, cast off like snakeskin, is the detritus of the season, dry and lifeless.
It's the fall season in the music software industry as well. Every software business has predictable cycles for startups, and the music industry software startup cycle is no exception. The clock is ticking, and some music software businesses seem on the road to becoming lifeless, a step from being cast off from their investors like so many drying leaves. It's not clear if any will bear the fruit –  the financial returns – their investors were hoping for. It's hard not to take as a warning the fact that projected 2012 Facebook revenues were downsized by $1B . Even this relatively successful consumer software platform continues to struggle to generate return on investment. Also in news this week, TuneCore founders Peter Wells and Jeff Price were ousted by the Board (read: major investors in the company take the reins, looking to change company direction to increase profitability). Slightly older news is that Spotify and Pandora are not yet close to profitable as of mid year 2012, and in fact, Spotify profitability appears to be moving in the wrong direction. Rhapsody was revived by absorbing Napster in a buy-in from Best Buy, and they are still owned almost 50% by RealNetworks, so theoretically they have deeper investor pockets. They are supposedly close to profitability, but their revenue and cost structures are less well understood. I'll believe it when I see the numbers.