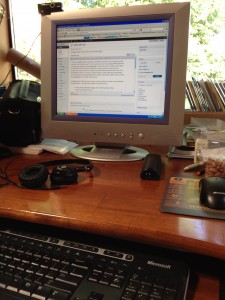 (Originally published in March 2012 on my old website, which was hosted on the musician-focused website-building platform, Bandzoogle).
I've been struggling with the question of what kind of website to use to represent myself – you know, the one that you get to when you search on my name, Solveig Whittle (this one). I am currently using the service Bandzoogle, but in the past six months I have begun to really delve into the world of social media and music marketing. Along with that exercise, Stevie and I have been creating some music with primarily just the two of us, so I'm thinking it's time to revamp my website(s) before I really launch into promoting the new music. After all, it should probably have a different brand and a different look, and this is my opportunity to "do it right" from the start.

Complicating this is the fact that I want my personal website to be home to several distinct personal projects – but preferably all under one coherent brand:
a blog (with the flexibility of being able to embed audio and video)
a place to showcase my music
a place to describe my music marketing philosophy and hopefully, someday offer my services to other musicians to help them market their music
a  home for other possible music-related ventures like an Eastside of Seattle House Concert series I'd love to get going
Intimately entwined in this discussion is also the technical and philosophical question of whether to use packaged (Hostbaby, Bandzoogle, ReverbNation, Facebook) vs. standalone or "self-hosted" tools (WordPress, various other tools). While doing my research, I read this article by Kelly Carpenter, another local blogger and musician (and fellow techie), which led me to think perhaps I should reconsider my current strategy of using Bandzoogle as my "landing" or homepage. Kelly uses his WordPress blog for his personal website's landing page, which gives him a a lot of flexibility in how to represent his personal brand. His music site (which is a Bandzoogle site, albeit customized from their pre-packaged templates with some HTML and CSS code he added) is a completely separate (but linked) site, reachable from his landing page.
So, that's certainly one way to go.
I also found this table of Website Builders for Music Bands and Artists feature comparisons from SocialCompare, which I found helpful, and which confirmed at least my decision to stick with Bandzoogle vs. moving to HostBaby (of course, it was last updated in August of 2011). However, I also just spoke to another local artist, Jennifer Cadence, and she uses and likes HostBaby. What to do… And that doesn't even start to address the graphic design and visuals issues. So much to think about.
I guess for now, I'm going to continue to use my Bandzoogle music site as my home site, modifying it, maybe trying some customizations – but we'll see how my thinking evolves.
[Update July 8, 2012: I began a WordPress.com hosted blog, solveigwhittle.wordpress.com as part of a Social Media class I've been taking to get a professional certificate at the University of Washington. It's also become more apparent to me since I wrote the original post that blogging is an essential part of promoting one's self as an indie musician. To be honest, I enjoy the writing process more than I really feel blogging has increased my visibility or credibility as a musician, but I have met some like-minded individuals, primarily through Twitter, and it helps to have a blog to express myself more fully. I find I cannot say everything I want to say in 140 characters, and even keeping my blogs to 500 words is difficult : ) In June, I finally decided to bite the bullet and redesign and self-host my entire website WordPress, which is what you see here. Well, truthfully, I hired someone else to design the site, after I created my hosting account at BlueHost, installed WordPress, and hit a wall with my technical capabilities. I've encountered some minor migration issues, and the fact that WordPress.org does not support email subscriptions to my blog, only RSS feeds, but overall I am very happy with the transition. Would love to hear what you think of it!]